Humanity uses fiction as a means of escape; it's a pretty old refrain. At the same time, that doesn't necessarily mean the realities of our world don't bleed into the margins. Certain environments, foods, educational systems, and the general laws of physics are common enough to be negligible, for example. We structure ourselves around these practicalities, so we expect our fiction to at least follow this same logic.
Things can get much more interesting when it comes to including actual, currently or formerly living people in our fiction. Now, we as audience members loved whenever the late Stan Lee made an appearance in the latest Marvel movie. It's even a pleasant surprise to encounter a well-known historical figure running around your favorite novel.
Comics books, however, are an entirely different beast; hell, you could even say they're doubly cursed. For one thing, comics are fictional stories expressed entirely through a visual medium, similar to films. But comics are also rather limited because their stories must primarily rely on fictional people—there are no actors to tell these tales.
Personally, it felt a little unsettling seeing Samuel L. Jackson as Nick Fury in the comics, or wondering if one day I might find Robert Downey Jr. staring back at me in an Iron Man comic. But this scenario has always been more possible than I'll ever be comfortable with, as illustrative allusions to famous people are as old as comic books themselves.
And arguably, the most famous example of this phenomenon has to be the comic book industry's love affair with Bettie Page.
Her name may not ring a bell to some now, but her likeness has influenced pop culture for almost 70 years. In many ways, Betty Mae Page's rise to stardom was a quintessentially American success story. After an unstable childhood and traumatizing adolescence in Nashville, Page set out on the road to start her adult life. She first landed in California, where she hoped to become a teacher. But when the acting bug captured her heart, New York City became her new home.
Page became a star through a unique backdoor: erotic photography. In 1950, a down-on-her-luck Page bumped into a man named Jerry Tibbs on the Coney Island pier. Tibbs was a beat cop with a passion for photography, and Page's good looks caught his attention. And on that fateful day, he was able to convince Page she would make a great pin-up model. It definitely wasn't the kind of silver screen Page originally hoped to shine on. However, being a pin-up girl did have its own legitimate pathway to fame and fortune.
Originating in the 19th century theater scene, the career was revitalized at the turn of the 20th century almost entirely due to WWI and WWII. At this time, women were increasingly entering the workforce to help support the home front. As a means to grapple with these uncomfortable changes in gender norms, as well as give the boys a little boost in morale, the U.S. government began to commission wartime propaganda artwork featuring sexy women who posed in military outfits and sprouting such slogans as "Be a Man and Do It," with "it" meaning join the war effort … mostly.
The propaganda worked, of course. As a curious side effect, soldiers started to collect and commission propaganda posters for their downtime enjoyment. To capitalize on this untapped demand, famous actresses and civilian hopefuls decided to supply the boys with photographic products of their own design, often with the help of new gentleman's magazines like Esquire and Playboy. Part capitalist entrepreneurialism, part rebellion against the creeping conservative backlash against women's autonomy that started after WWI, a fun and innovative era of sex work was thus born.
With Tibbs' early assistance, and her own affinity for creative costuming and makeup design, Page entered this exciting new field with an incredibly cool vibe. She emphasized her piercing blue eyes, her inky black hair, and trademark bangs that Tibbs allegedly suggested to hide the glare from the camera flash on her large forehead. It also certainly helped that Page had a playful, "good girl" openness towards nude photography. While she initially photographed in camera clubs, Page's popularity quickly skyrocketed in the world of underground erotica. She soon appeared in numerous magazines, mail-order erotica catalogues, and even short films.
As fetishes and violent sex were the apparent flavors of early 1950s erotica, Page also took part in what many consider to be the first well-known instances of bondage film and photography. Clad in leather and high heels, she acted out abductions, spankings, bondage, homoeroticism, submission, and domination. These particular photographs earned her such illustrious titles as Playboy's "Miss January 1955," "Miss Pinup Girl of the World," the "Queen of Curves," and "The Dark Angel" of the erotica scene.
Page's career of modeling and acting lasted a dazzling, and then-unprecedented, seven years. However, a destructive force soon destabilized the underground world of erotica: Dr. Fredric Wertham and his infamous Seduction of the Innocent. While the 1954 report specifically targeted comic books as the main cause of rising juvenile delinquency and sexual indecency, Congress used his material to condemn other suspects of inappropriate sexuality. Pin-up girls became targets of this paranoia, and Page found herself in the crosshairs of the congressional witch hunt as a consequence of her popularity.
Ultimately, Congress did not force Page to testify about her work. But the psychological stress of those years severely impacted the erotica industry, Page included. She retired from modeling in 1957, and by 1959 she was a born again Christian who briefly renounced her previous career. Page spent the next few years of her life dealing with a string of failed marriages and mental health concerns. To many, it seemed like this success story was about to fade into obscurity forever.
However, there was a slowly growing resurgence of interest in her work in, of all places, the comic book industry. New creators entered the industry with hopes to push boundaries with fresh ideas. More often than not, these ideas focused on exploring the sexual taboos of yesteryear.
For the DC Comics writer Robert Kanigher and artist Sheldon Moldoff, this meant using Page's iconic look as inspiration for an original design—Poison Ivy, a classic character in Batman's rogues gallery.
In her 1966 debut in Batman #181, Poison Ivy seemed to share Page's signature haircut and sensual physicality. At the same time, the creative team purposely took artistic license in Poison Ivy's hair color and outfit choices. It's not a perfect replication, of course, but the hints of Page peep through Moldoff's art.
But Page's popularity reached a newfound fever pitch in the 1980s. Unbeknownst to Page herself, the comic book industry had completely fallen in love with her. Enter Dave Stevens: comic book writer and artist, creator of The Rocketeer, and totally unabashed Bettie Page fanboy.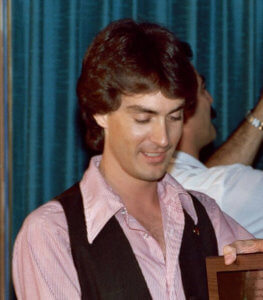 Stevens had discovered Page's work sometime in his youth, but he didn't indulge his new artistic muse at first. His early career in the late 1970s consisted of guest spots in Tarzan and Star Wars comic strips, fanzines, and storyboarding jobs for animated shows and music videos.
Stevens was finally able to brazenly showcase his Page appreciation with creator-owned work. In 1982, Stevens debuted a new series called The Rocketeer as a backup feature in Starslayer #2, a series published by Mike Grell's Pacific Comics. Inspired by 1930s pulp fiction and classic adventure heroes like Doc Savage, The Rocketeer starred down-on-his-luck stunt pilot Cliff Secord. After accidentally discovering a stolen rocket-pack, Cliff uses it to become the high-flying titular superhero.
Despite his trials and tribulations, Cliff had one good thing in his life: his longtime girlfriend, a pin-up model named Bettie. Yes, seriously.
Stevens didn't even pretend to hide the fact that The Rocketeer's Bettie was a fictionalized version of Page. Instead, he leaned into it quite happily, replicating her appearance entirely starting with her debut appearance in Starslayer #3. He even populated her fictional life with real-life porn photographers such as Ken Marcus.
The Rocketeer was an immediate critical success. Inspired by the positive reception, Stevens would spend the next 13 years completing his tale across multiple publishers and titles. Meanwhile, he also supplied the underground comic scene with fanart of his favorite pin-up star. In turn, comic creators such as Chris Cooper, Dan Clowes, Los Bros. Hernandez, Erik Kroll, and Frank Kozik responded with fan mixtapes, comics, and zines. The most famous of these shared works were collected by artist and comics restorationist Greg Theakston in the fanzine The Betty Pages.
In a surprise turn of events, even the Mouse took a shine to The Rocketeer property. In 1991 Disney released a live-action Rocketeer movie, a modest hit that pleasantly lined the pockets of all involved … except for Page, that is. After all, Walt Disney did not want to associate its image with the sultry world of pin-up stars. So for the film they transformed the sexy comic Bettie into girl-next-door Jenny Blake. In the film she was still a knockout actress whose looks were near identical to Page, mind you. But Blake was a classier and family-friendly version of Page. So it was OK for Disney to change the character's origins and not compensate Page for the usage of her image and life story. Or, you know, something misogynistic and exploitative like that.
For his part, Stevens tried to rectify the situation. After all these years of appropriating her look, Stevens didn't realize Page was still alive until he saw a Lifestyles of the Rich and Famous episode about her in 1992. He immediately reached out to Page, but the two didn't officially meet until 1994. From that point on, Stevens and Page forged a surprising friendship. Stevens provided both personal assistance and arrangements for financial compensation from publishers still using her image and reprinting her photos. Page and Stevens died months apart in 2008, to the best of our knowledge still incredibly close.
In the wider purview of pop culture, these days Page is now hailed as a defining influence on everyone from Madonna to Rihanna, Pulp Fiction's Mia Wallace to the Pussycat Dolls, Dita Von Teese to Katy Perry. There even are a few Bettie Page comic books steadily being published by Dynamite. It's interesting to contrast this explicit modern love with the clandestine enjoyment and public condemnation of Page throughout her lifetime. Her contributions to the comic book industry particularly serve as a fascinating (and disconcerting) look at the slippery claims to ownership that people, especially women, hold over their own bodies and their image in our society.
At the same time, we have to acknowledge the positive happenstance that was Page's revival, all thanks to comic books. Her life had something of a happy ending, the kind that can only be found in the most hopeful of fictional stories … and, very specifically, in the sexiest of circumstances.