The next installment in the ongoing Marvel's Voices series, Identity #1 provides another set of short stories highlighting a specific minoritized community. This time, the vignettes focus on characters and creators of Asian-descent. While I love the amplification of these creators and stories, the issue made me feel lost.
Marvel's Voices: Identity #1
Rina Ayuyang (Introduction), Gene Luen Yang (writer), Marcus To (artist), Sunny Gho (Colorist), Christina Strain (writer/colorist), Jason Loo (artist), Greg Pak (Writer); Creees Lee (artist); Brian Reber (Colorist); Sabir Pirzada (Writer); Mashal Ahmed (artist); Neeraj Menon (Colorist); Alyssa Wong (Writer); Whilce Portacio (artist); Jay David Ramos (Colorist); Larry Hama (interviewee); Angélique Roché (interviewer and X), Jeremy Holt (Writer); Alti Firmansyah (artist); Irma Kniivila (Colorist); Ken Niimura (Writer/artist/letterer); Maurene Goo (Writer); Lynne Yoshii (artist); Sebastian Cheng (Colorist); Jim Cheung (cover artist); C.B. Cebulski (Editor-in-Chief)
Marvel
25 August 2021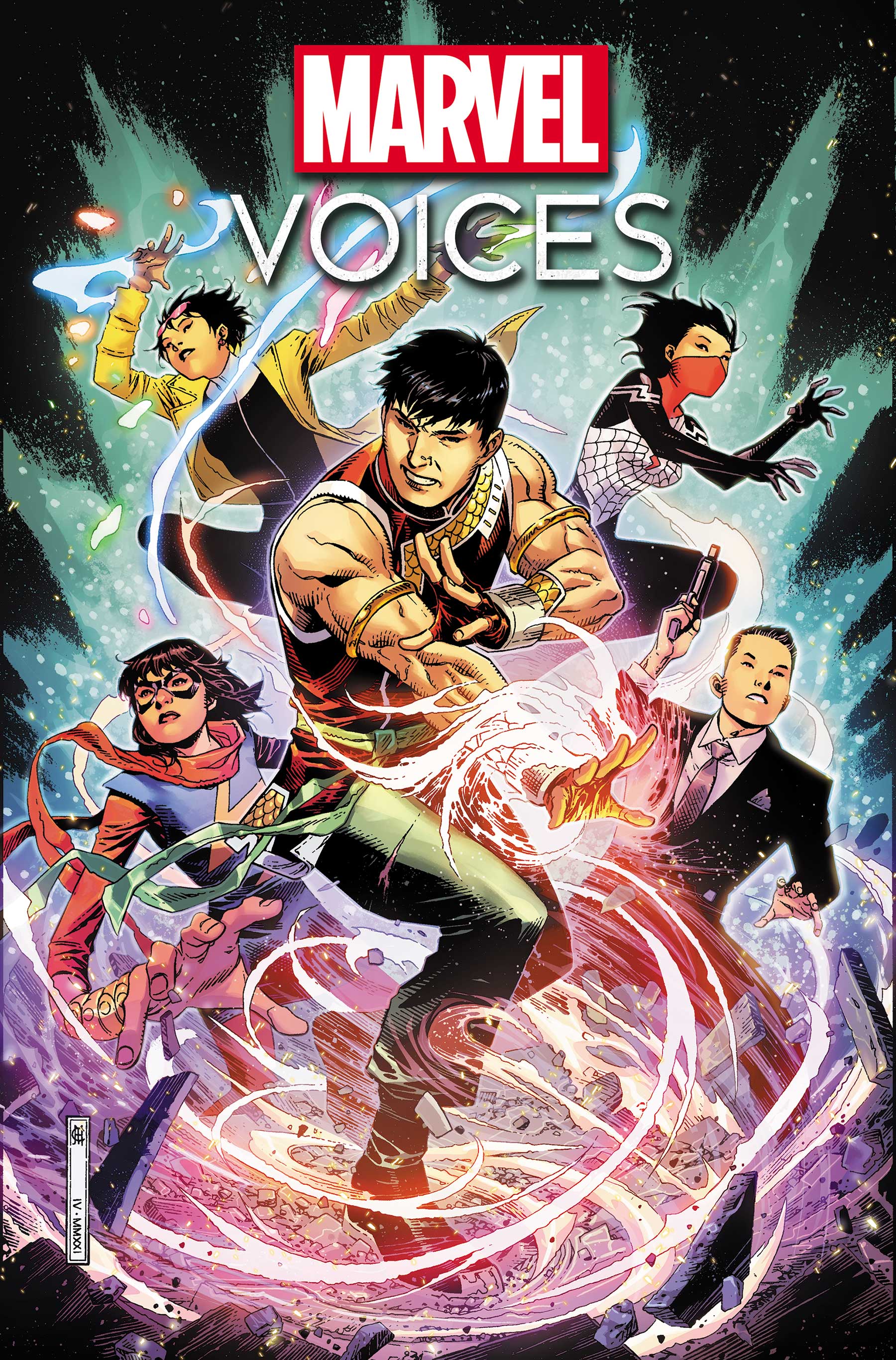 The next in a series that includes Legacy #1 and Indigenous Voices #1, this issue collects eight stories with Asian descent characters and creators that explore identity. A highlight was that they included Southeast Asian characters like Wave (who reminded me I need to make some sinigang), Afro-Asian characters like Silhouette, and South Asian characters like Ms. Marvel. What's special about these characters? Well, they're all from communities that get sidelined in narratives about the Asian-descent experience.
My favorite story in the collection was Ken Niimura's "Traditional Pink Sushi." With a slice-of-life plot, no villains in sight, a warm pastel color scheme, and sleek artistic style, I couldn't help but hunger for some pink sushi. I loved the way that Niimura captured the way food inspires memory. The emotion on Silver Samurai's face was priceless. Niimura draws a tear extending one of Silver Samurai's glowing eyes as he tastes the pink sushi, and that taste transports him back to his childhood.
Another favorite moment was in the last story, "New York State of Mind", written by Maurene Goo, art by Lynne Yoshii, and colored by Sebastian Cheng. After Brawn (aka Amadeus Cho) convinces Silk (aka Cindy Moon) to play tourist, the two encounter Scarecrow on The Statue of Liberty. Yoshii's art with Cheng's colors creates a dynamic fight scene around the iconic statue, with plenty of punches, kicks, and narrow escapes aided by wonderful action lines. However, my favorite panels are a pair of static ones.
Scarecrow asks the two heroes if they know what it feels like to be invisible. And Silk and Brawn just share a pair of raised eyebrows. Accenting this moment, a single bird "caws" in the background, providing a great visual cricket noise. Lowering their brows and turning their eyes towards Scarecrow, Brawn repeats the question back and Cindy goes "Sir, we are Asian American" (emphasis in the original). And the energy in that line, with the "are you serious" faces Yoshii has Brawn and Silk share, make that panel perfect.
And I wanted more moments like that in this book. Because while each short story explores identity in a unique way, grounded in each character's heritage, some stories felt rushed.
For example, Ms. Marvel's story, "Seeing Red" (written by Sabir Pirzada, art by Mashal Ahmed, and colored by Jeeraj Menon) ends just as it started to captivate me. In the short, Red Dagger and Ms. Marvel's team-up to beat up generic villains. But that was a lot less interesting than exploring the idea of Kamala being a "self-hating Pakistani" introduced in the last panels of the story.
Ahmed's lines expertly mirror Pirzada's dialogue, as Kamala's feelings of insecurity make her physically smaller within one panel. However, ending the story with her looking in the mirror felt bizarre. While an emotional scene, it ends unsatisfyingly open-ended because eight panels felt too short for Kamala to consider the hurt and complexity of the question Red Dagger posed.
And so, while I found myself laughing and crying when reading this issue, I was left underwhelmed. The eight stories lacked cohesion within the book. There was no visual or specific narrative thread weaving each story together. This left each story disconnected and isolating, which felt like the opposite of what the issue needed.
And overall, the issue book feels like a half attempt on Marvel's part. I love that this amplifies the voices of Asian-descent creators. I loved the fun interview with Larry Hama about working for Marvel in the 1970s. And, I love the promotion of other books with AA(PI)* characters. But the issue left me with questions.
Will this lead to more work for creators like Ken Niimura and Mashal Ahmed? When will I get to read series about Silhouette and Wave? Why is C.B. Cebulski is still editor-in-chief?
To me, this tension is highlighted by the amazing opening essay penned by Rina Ayuyang. After reading her moving introduction that weaves a personal story about Marvel and identity, I wondered if she'd worked for Marvel before this. And at least according to Google and her website, she hasn't.
And so it feels strange to read a set of stories with so much personal feeling and yet clear evidence that the company that produced it doesn't do the work that this book wants to signal. And so I'm left wondering if it is the construction of the issue that struggled with identity more than any of the characters in it.
*Note while the issue was announced during Asian Pacific American Heritage Month, the characters are of Chinese, Japanese, Korean, Pakistani, Filipine, and Afro-Cambodian descent. Amongst the creators, the writer of this piece could not find any that identified as having Pacific Islander heritage. This differentiation is important when we consider that the term AAPI covers an immense region of the world that includes a huge diversity of cultures and peoples. Additionally, some issues are unique to the experiences of Pacific Islanders.