Marvel's Voices: Indigenous Voices, is an excellent set of stories highlighting Native American creators and Marvel characters. The issue is a solid introduction to Indigenous stories from a mainstream publisher. It provides an enjoyable balance of art styles and stories that explore the past, present, and future of Indigenous characters.
Marvel's Voices: Indigenous Voices #1
Jeffrey Veregge (Port Gamble S'Klallam writer and artist), Rebecca Roanhorse (Black/Ohkay Owingeh writer), Weshoyot Alvitre (Tongva artist), Lee Loughridge (colorist), Darcie Little Badger (Lipan Apache writer), Kyle Charles (Whitefish Lake First Nation artist), Felipe Sobreiro (colorist) Stephen Graham Jones (Blackfeet Nation writer), David Cutler (Qalipu Mi'kmaq First Nation penciler), Roberto Poggi (Inker), Cris Peter (colorist), Taboo (Shoshone) & B. Earl (afterword), Jim Terry (Ho-Chunk) & Brian Reber (Cover), VC'S Ariana Maher (letterer), Salena Mahina (designer), Sarah Brunstad (editor)
Marvel
November 18, 2020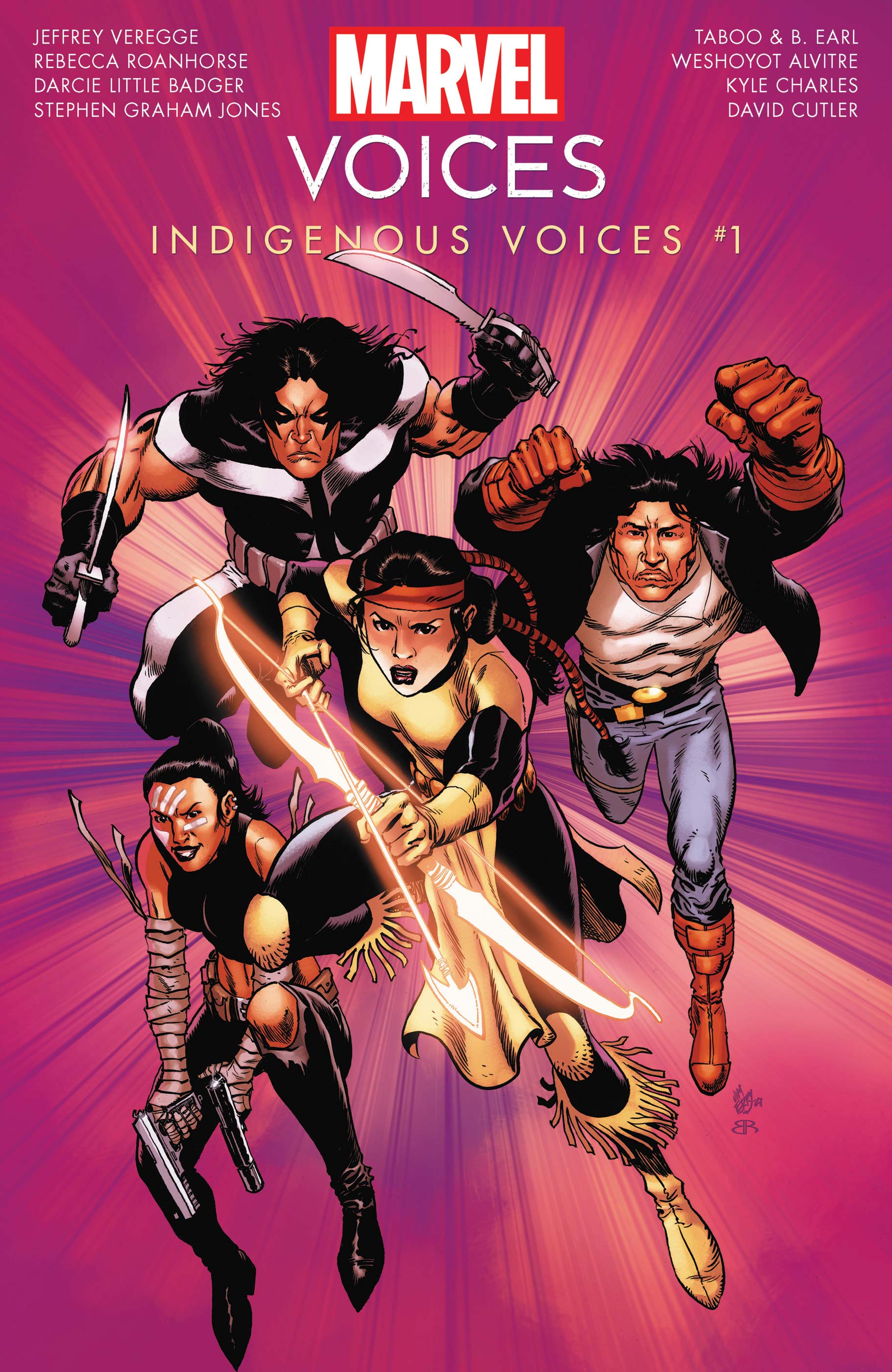 As a settler in North America of Filipine and Polish descent, I write this review from the land of the 19 pueblos of New Mexico, Diné, Apache, and other Indigenous peoples who call Albuquerque home. If you want to learn whose land you may live on, check out Native Land as a start.
The issue beings with an awesome art by Jeffrey Veregge from the Port Gamble S'Klallam Tribe. I love the way he uses the Watcher to introduce the stories in the issue. Centering the Watcher as a meta-storyteller, he introduces new readers to some of Marvel's Native American heroes. The names of these heroes are arranged in a circle, with miniature portraits and bios that include the specific Nations that they are part of. For readers unfamiliar with the Indigenous Nations of North America, it is a way to demonstrate how many different cultures are part of the umbrella term "Native American".
The stories that follow operate as examples of Indigenous futures, presents, and pasts. They are arranged from the future to the past in an effective way that plays with the process of reading as a kind of time travel. We start in the future in the issue and end in the past.
The first story brings Maya Lopez, aka Echo, into space to help a community of Badoon. The Badoon, after a short altercation, welcome Echo with stories, food, and warmth reminding her of her past. I particularly love how this set of panels act as an introduction to Indigenous futurisms for mainstream readers. I love Weshoyot Alvitre's art throughout but my favorite is the first panel with Echo, smirking and scrolling her phone in a dimmed alley. It's the sort of chill confidence I love to see in femme presenting characters.
The second story centers on Dani Moonstar and Rahne Sinclair. The two travel to Yavapai County, Arizona at the request of a tribal government. They're there to find a mutant who, while protecting his grandmother, injured the son of a white sheriff. My favorite panel from this is near the end where the Tribal government promotes diplomatic ties with the X-Men.
While the story explores the tensions between settlers and Native American communities, that panel introduces Tribal sovereignty to non-Indigenous audiences. It acknowledges Tribal governments as the ultimate power over their nation on the same level as that of the X-Men's nation. Additionally, the group, drawn by Kyle Charles, wear combinations of modern and traditional clothing and jewelry depicting how Native American communities are vibrant living populations that integrate traditional and modern aesthetics.
The last story explores the history of Indigenous and settler relations. The story takes us back in time as we watch Silver Fox and Trigo protect their community from future settler violence. The frontier Canadian setting reminds me of Katherena Vermeette's A Girl Called Echo. Additionally, I like David Culter's use of layout to juxtapose Trigo's foresight with the present. Cris Peters colors, contrasting the cool wintry blue of the present with the hotter oranges and reds of the future wonderfully highlights those divisions as well.
I hope these stories are a beginning, not an end. Like including a land acknowledgment in this review, I appreciate Marvel publishing stories like these. It's a beginning. However, in the same way that we cannot acknowledge land without pursuing landback, this issue should be followed by the regular inclusion of Indigenous creators in Marvel comics. This means hiring Indigenous creators to do all aspects of comics creation for Indigenous and non-Indigenous characters.
Overall, I love this issue's combination of past, present, and future. I love that it includes artists who specifically utilize traditional styles, like Veregge, and ones that do not. Additionally, I love that the issue demonstrates the resilience of Native American characters by representing these experiences as diverse. The issue is an excellent reminder for settlers that the experiences of Native Americans are not homogenous. Instead, they are grounded in the specific histories and relationships of each nation.