The competition begins in earnest in Excalibur #14 and immediately takes a wildly unexpected turn. After all, Otherworld is the realm of the Fae, and with them, nothing is ever as it seems.
Excalibur #14
Mahmud Asrar (cover), Tini Howard (writer), VC's Ariana Maher (letters), Tom Muller (design), Phil Noto (art), Matthew Wilson (cover)
Marvel Comics
November 11, 2020
This review contains spoilers for Excalibur #14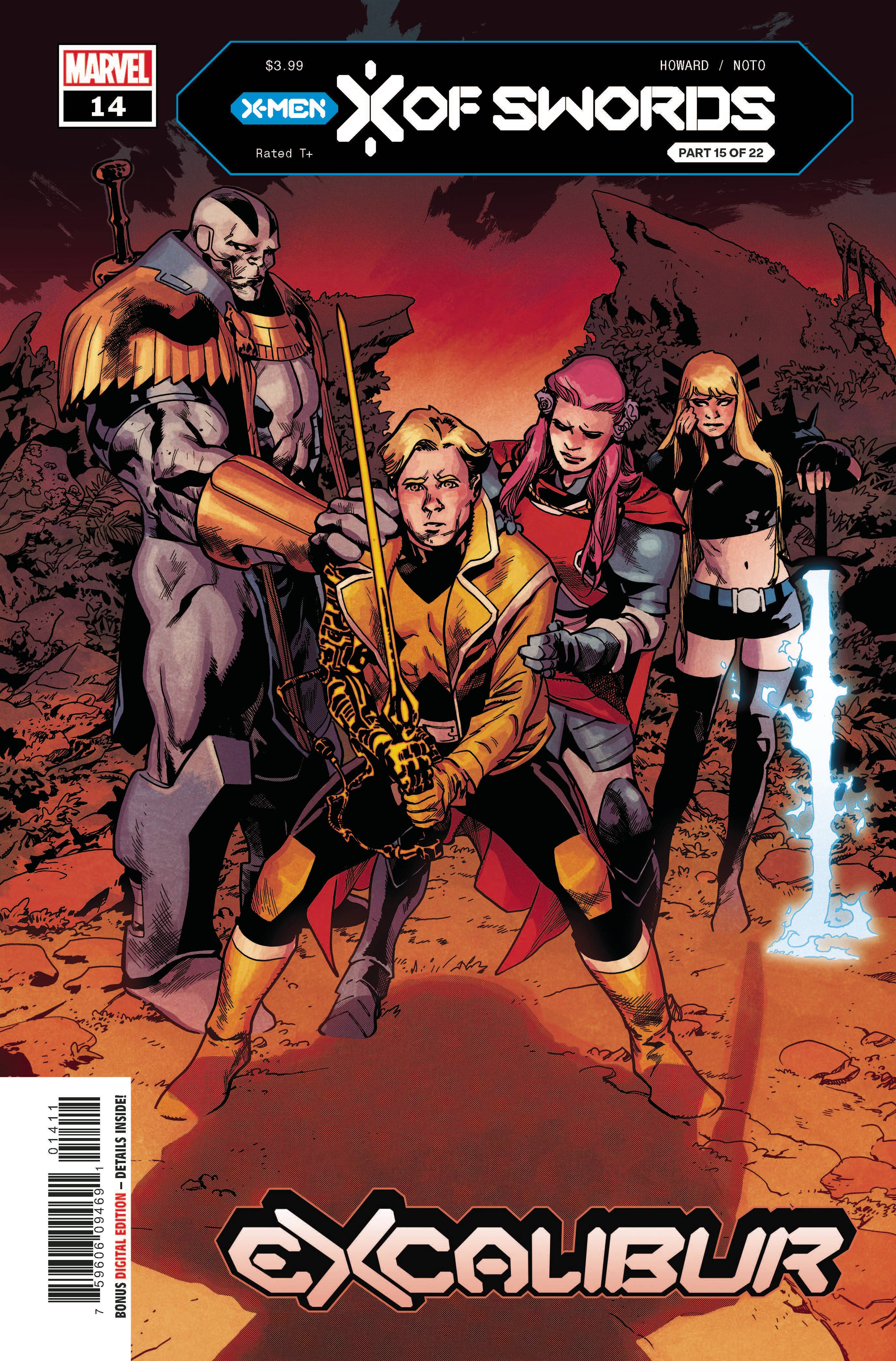 Tini Howard opens the issue by showing us that even as she is preparing for battle against a supposedly unbeatable foe, Betsy still cares enough for her teammates to reach out to Jubilee to make sure she and Shogo are doing alright. This is immediately interrupted by Isca, whose dominating presence is wonderfully illustrated by Phil Noto in this issue. Noto puts on a masterclass throughout the issue, as all of the characters just absolutely shine. Notably, the concern on Betsy's face after the initial encounter with Isca is just instantly readable and relatable.
Betsy is right to be concerned, because while she holds her own with the Unbeaten, something is up with her sword, and on a well-placed parry both the Starlight Sword and Betsy Braddock shatter like a stained glass window. This doesn't necessarily feel like how a sword fight would end, but I have thoughts. We know the intention of Saturnyne was to have the Braddocks wield the opposite blades of what they bring to the battle. She intended Betsy to have the Sword of Might and Brian to have the Starlight Sword — the sword that shattered almost immediately, shattering its bearer with it. We also know that she desperately misses the Captain Britain Corps. What if this was all a ploy to restart the Corps, and all the fragments of Betsy are variations of her doing just that, while Saturnyne has her hands tied by her own rules. She wanted a corps of Brians but will get a corps of Betsys.
But we have little time to ruminate on that, as things progress at mighty speed from there. We learn that not all the competitions of the contest are to be those of swordplay, as Doug's is an entirely different challenge altogether. Doug gets married to the one person he can't understand. And while that might seem like a lot, Doug is instantly down with it. I mean, who wouldn't be? Have you seen Bei the Blood Moon? She BIG and PRETTY. Which is pretty much exactly what goes through young Douglas's mind.
Jubes tries to crash the wedding, and as reprisal for that act, Saturnyne entices her baby, effectively kidnapping Shogo. She's been dastardly throughout Howard's Excalibur run, but here in issue #14, she truly steps fully over the line into villainy. This begs the question, if nothing is as it seems in Otherworld, may that not hold true for her Whyness as well? Perhaps, this is not Opal Luna Saturnyne at all, but something more deadly and sinister.