Sleuths, snobbery, and suspense sustain this second segment of Wicked Things. The ongoing series from the creative team behind Giant Days strings us into the soul of the scintillating mystery. Our star, suspect, and sleuth was signed on to solve her own crime.
Wicked Things #2
Creators: John Allison (creator, writer, variant cover), Max Sarin (art and cover), Whitney Cogar (colors), Jim Campbell (letters), Veronica Fish (retailer variant), Michelle Ankely (designer), Sophie Philips-Roberts (associate editor), Shannon Waters (editor)
Boom! Box
June 24, 2020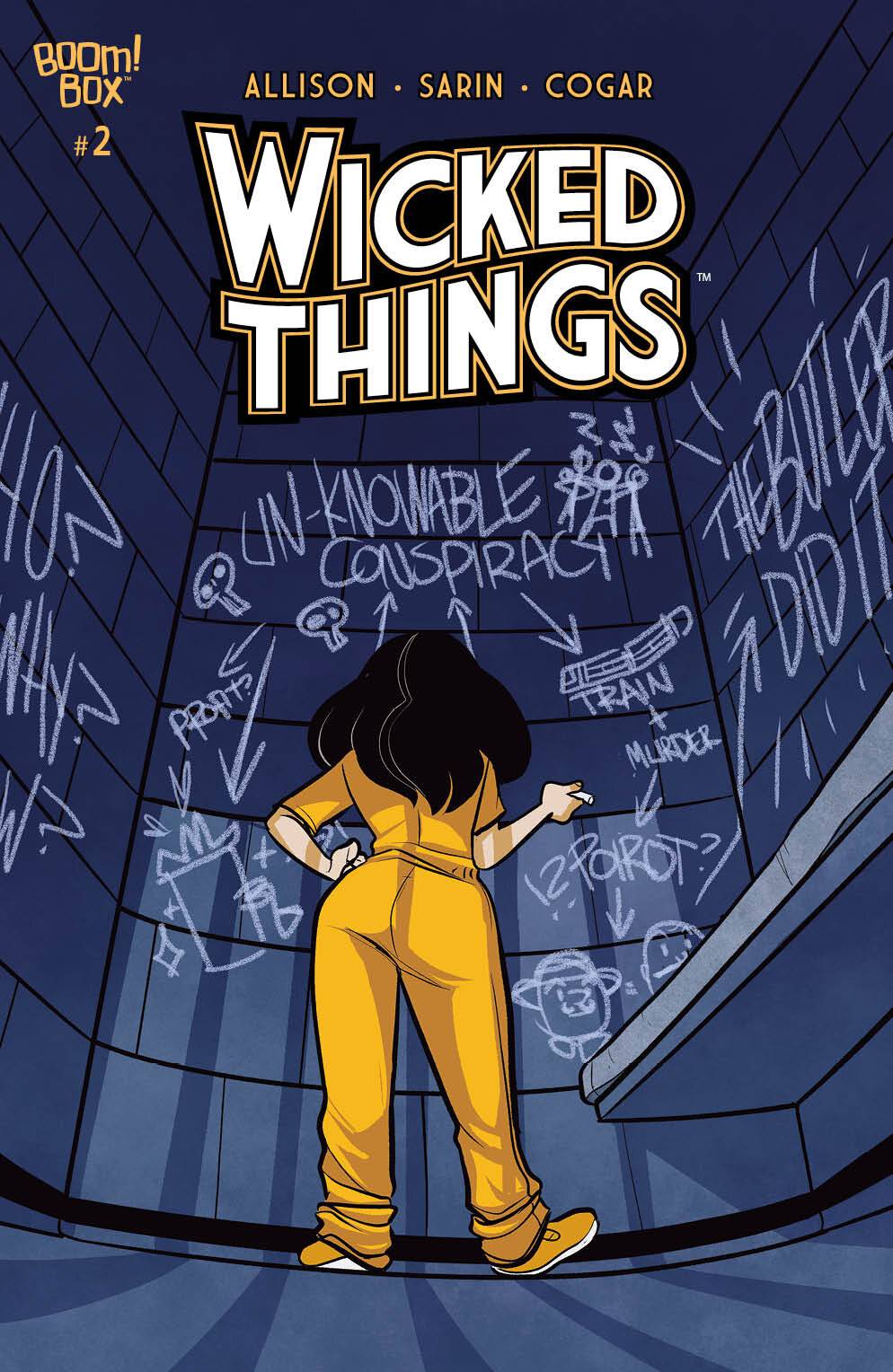 Continuing where Wicked Things #1 left off, we find conspiracy, comas, and convenience drive this section of the story.
The Sleuth
Charlotte Grote, a teen detective, is in the big house and worried about being sent to prison. Especially as someone who has helped put people there. The anxiety she feels is palpable and in these moments we see the endurance of Charlotte's youth, despite experiencing such a terrible ordeal.
Sarin captures this in the scene when Charlotte is presented a plate of beans on toast while in jail. She waffles between going on a hunger strike, committing to her innocence, but then deciding she shouldn't do it on an empty stomach. The combination of panels, the resentment of her situation, the consideration of it, and then the gusto with which Charlotte digs in is enviable. Once again, Charlotte cannot work on an empty stomach and I started craving beans on toast.
However, there is a downside to her exuberance. And I hope that downside does not become why the mystery remains a mystery. Namely, when she speaks with her court appointed lawyer Charlotte doesn't actually tell Sunita Kaur, the lawyer, anything that exonerates herself. The image of Sunita yelling at Charlotte, with tasteful lighting bolts of annoyance, encapsulated my own frustration with the character. Her behavior, panic, and unclear storytelling meant that, even though I know she did not do it, I can see how she'd get herself sent to jail.
Snobbery
I hope that Charlotte's youthful energy will not lead to a mystery of miscommunication based on what we see of the snobs again. The snobs continue to be….snobby but the way that they talk about Charlotte feels like a conspiracy. They open this issue with gross misrepresentations of Charlotte's interactions with them. Sarin's depiction of the disdain that Paola Tosto has for Charlotte is so fantastically frustrating when accompanied by the fake puppy dog eyes of Norris Overton IV on the same page.
Furthermore, my conspiracy senses tingled when Claire, Charlotte's friend who nominated her for and accompanied her to the teen detectives awards show, talks with the snobs. They immediately get defensive when she mentions the possibility of there being more suspects. Sarin's capturing of slight glares that surround Claire in the panel feel like the senators coming for Cesar. While they continue to be pleasant to Claire, it's obvious there's more to those snobby teens than meets the eye.
Suspense
Adding to the conspiratorial air is Maki Yamaji, Miyamoto's (the victim detective now in a coma) translator. She liberally translates what happened at breakfast between Miyamoto and Charlotte the morning before his attempted murder. She tells the police the same fabricated conversation she told Miyamoto when Charlotte came down to gush at her hero. While I didn't quite buy that Miyamoto believed the translator, based on Sarin's drawings for Charlotte's body language, the police officers believe Yamaji's story. So evidence and witnesses to point to Charlotte Grote, violent sleuthing superfan.
Thankfully, Commissioner Stella Boswell throws a shroud on this clear cut case. To the Commissioner, the evidence is obviously circumstantial. Furthermore, with Miyamoto the victim, in a coma there are only so many further lines of evidence. Therefore, she believes Charlotte is innocent, despite Charlotte's inability to articulate those details herself. So what do you do with a teen sleuth with skills and too much energy? Put them to work of course. Until she can be released and under the supervision of an officer, Charlotte will help solve the crime she's accused of.
So the shape of suspense solidifies, with snobby and scared sleuths taking opposing positions on the attempted murder of Miyamoto. While we've seen Charlotte talk about her sleuthing in this series, we haven't seen what those skills in action. Thankfully, this issue gives us a taste, as on the last pages, and the cover, Charlotte stares up at her conspiracy board. With the clues in place I can't wait for the third installment of Wicked Things.