Michelle Gish's adorable post-apocalyptic webcomic started on Tumblr and quickly amassed over 18,000 followers. We Are Here Forever chronicles the adventures of adorable purple creatures called the Puramus as they roam an Earth mysterious bereft of humans, collecting treasures, writing poetry, and developing governments. Quirk Books will be publishing a book based on these strips in July, and have given us an exclusive peek at the cover. Gish also answered a few questions about her story.

1. What inspires your color palette for We Are Here Forever? What are your overall design influences on the comic?
I wanted the color palette to reflect the mood of the comic. Typically the colors pop and feel playful. Other times the colors are subdued and less saturated, like the post-apocalyptic scenes. I also like placing the purple characters in a very green world, giving them a strange feeling of being out of place or not belonging.
The design is simplistic and gives a friendly feel. It looks like it would appeal to children, but anyone can read it and enjoy whatever they get out of it. I was a huge fan of Adventure Time ever since the pilot was released online. I tend to gravitate towards cute, goofy, round characters. They always make me laugh. There is also something appealing about a horizontal comic. Scenic panels become very expansive and cinematic.
2. How many years of the Puramus do you think you'll chronicle?
I have the whole thing pretty mapped out and it won't go over 1,000 years after the Puramus start living independently on Earth. Although I won't spoil more than that. You will see in due time! The webcomic will continue to update before and after the book's release.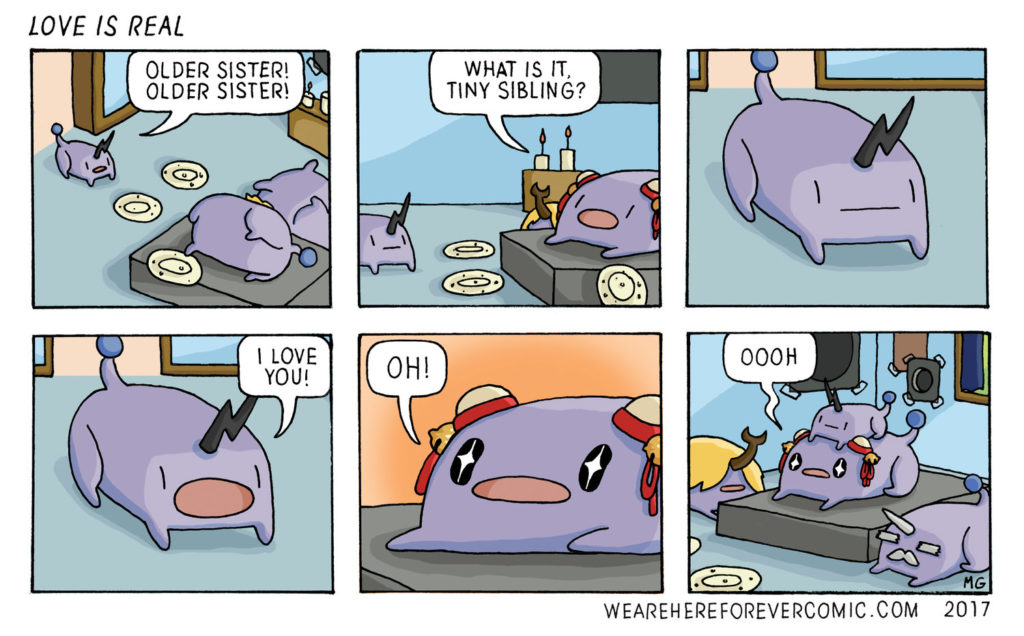 3. Are there any extras in the book that we won't see online?
Yes! Anyone that picks up the book will learn a lot about these purple pals. I wanted the book to stand on its own, yet work alongside the webcomic. Fans of the webcomic will enjoy the book since it's all new material. New readers will be introduced to the Puramus and there will be a lot more content for them to read online! Everyone wins!
4. How do you feel about Tumblr as a viable comics platform now that their new content policies have been instated?
Tumblr has always been a great platform to upload creative work. Although like most companies, it will continue to evolve and change. Some websites are very strict about their NSFW policy after reaching a level of popularity. The biggest issue for a lot of artists is the algorithm attempting to seek out NSFW content. In a lot of cases, it isn't refined enough to scope out what it wants to. One of my comics got flagged for inappropriate content, so even my PG-rated fluffy art isn't safe! We're just going to have to watch and see what happens.
For all artists that are struggling with the recent changes, I suggest creating a website independent from social media accounts. This will allow you to express yourself with complete freedom whether you make NSFW content or not. You can still use other platforms to promote your work, but you will always have a place to return to just in case something happens out of your control. It's unfortunate, but it's best to move forward and continue creating content that we enjoy.
---
We Are Here Forever comes out July 30th, 2019, from Quirk Books.