Some ideas are just too good not to do. I was brainstorming Deadpool-related ideas for February's Knit Your Comics with our Editor-in-Chief. Since the column comes out just a few days after the movie's release, and I kind of have had a crush on Ryan Reynolds since Blade: Trinity, and I have watched many a bad movie (Buying the Cow—totally worth it for the nude scene) and 90s sitcom (Two Guys, a Girl, and a Pizza Place—totally worth it for Nathan Fillion) featuring him, I am ecstatic to support what is apparently going to make a gazillion dollars and (hopefully) a sequel. Especially if that sequel includes a boyfriend.
Anyway, I'm getting off track. The point is that we were brainstorming ideas. She suggested a tea cozy. I suggested banana cozy. We talked about knitting a pouch to carry your hot sauce in for chimichangas. (And also because when you think of Liefeld, who doesn't think about random pouches?) And then she changed my life when she typed two little words: Banana hammock
"But I don't know any hot guys to model it, Megan," I complained, contemplating briefly just how much money it would take to bribe my friend's roommate into wearing it. But then she saved me again.
"No, no, no. A hammock. For bananas."
Like I said. Some ideas are just too good not to do.
So, if by some miracle Ryan Reynolds is reading this: I hope Deadpool finds it a fitting tribute.
Yarn & Other Supplies
The knitting involved in this pattern is fairly straightforward, but now it comes together it might be tricky for some people. I once made a lacrosse stick from a cake, zip ties, and parachute cord, so this doesn't intimidate me. I ordered a "fruit hammock," and when it arrived I promptly scavenged it for parts and threw away everything except the stand itself and the wooden dowels.
Creating the Hammock
Since food is going on this, and it may need to be washed at some point, I selected a sturdy, machine washable acrylic yarn that will probably outlast the apocalypse. If you're lucky, you may already have something that will work in your stash—especially since you will only need a little bit of red and an itty bitty bit of white for the Deadpool symbol.
There are a lot of different Deadpool logos out there, but I went with the one used with the movie's promotional materials—the one on all of the Hot Topic merch.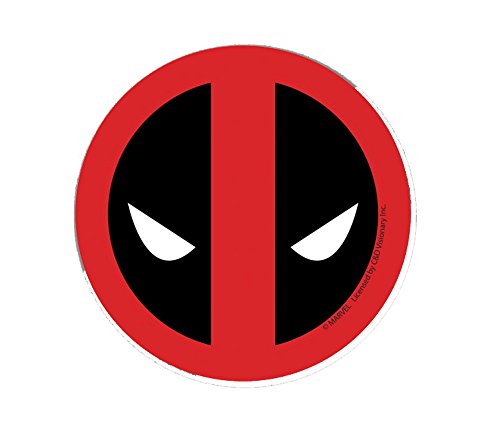 It's also Deadpool's belt buckle.
Finally, I decided to line the back of the hammock with fleece to hide the unsightly wrong side of the fabric. Felt would also work, so long as it's washable, but I picked fleece for washability.
The Pattern
Knitting this on size 8 5.0 mm needles gives me a gauge of 5 stitches by 6 rows per inch. 
Part 1: The Hammock
Cast on 26 stitches with your preferred method.
Knit 54 rows in stockinette stitch. I prefer a slipped stitch edge for neatness.
Bind off.
Part 2: The Logo
You'll be using a yarn needle and the duplicate stitch to stitch this chart (created on TricksyKnitter's chartmaker).
Part 3: The Fleece Backing
Lay out your hammock and cut a piece of black fleece large enough to back the black part of your hammock when fully blocked.
Hand sew the fleece to the hammock, making sure to tuck in the color changes and cast on/bind off tails behind the backing.
Voila! You have finished your hammock.
The Assembly
First you'll need to assemble the fruit hammock stand. I was able to do this with just a Phillips-head screwdriver and my fingers, but the hanging hooks were very difficult and tiny, so I wrapped a piece of fleece around them as I screwed them in order to protect my fingers.
Next, you'll need to attach the hammock to the wooden dowels. I ended up deciding the little metal clips were useless considering that I was going to have to hook them around the ties.
You'll need to cut four 12" strands of yarn in any color you prefer. I picked red.
Using a yarn needle and pull one strand of yarn through the rightmost and leftmost stitches on either end.
Next, use the yarn needle to draw the yarn through holes in the wooden dowels.
You could knot them, at this point, or you can do what I did, and wrap them around the dowel and then knot them, so that you can slide the dowel up and down as needed. Totally up to you.
Repeat on the other side and now you have a hammock. Just add fruit.
My fruit pantry was pathetically empty of exotic fruits, so I had to make do with a rather phallic looking banana and some pink ladies. We all know that Wade enjoys all fruits, in many different configurations.
ENJOY!