Sex: a lot of us do it! Naturally, it features in a lot of stories.
There are a lot of comics with sex in them, out there. There are plenty of bad ones. And there are a lot of really well-drawn, clear-eyed comics about bad sex, too. Or functionally good sex, between people who are bad to each other. Like Katsumoto Kasane's Deep Sex—which follows teenagers in a boundary-free, secret relationship, and catches all the confusion and misery of a poorly defined coupling, the careless cruelty involved in intimacy between youths who misunderstand consent. These comics can be very useful to read and share. But, often, what you want in a sex comic is a fully positive experience. That's what we're bringing you in this series of short recommendations. Sex comics, where the participants are kind.
Oh Joy, Sex Toy by Erika Moen and Matthew Nolan (with lots of guest creators).
Two print volumes have been produced thru Kickstarter, but it's a webcomic. I'm not sure where this would fit. Maybe a special honorable mentions category. It's a comic for sex toy reviews and it's funny, sweet, and so thoroughly researched it's non-fiction; I nominated it for everything possible for Harveys and Eisners and it didn't get a final nomination at all.
—Amber Love
Yaoi/BL about two college students, one gay and the other straight (per the manga) fall in love, have a lot of sex, and are also just really, really kind to one another. Lots of feelings, lots of sweetness, and lots of love. Vol. 1 contains part of their story, but Vol. 2 is devoted to them entirely. It's my #1 romance comic pick and anyone who wants a good love story should read it.
—J.A. Micheline
Curvy by Sylvan Migdal
Hot, hot, sexy, hot space alien, candyperson sex. This webcomic is dirty, lewd, and awesome. The couples are all different sorts of arrangements of humans (and aliens). Straight sex, gay sex, lesbian sex, undefinable sex. A hijab wearing woman is sexy and powerful and just as dirty as the rest of them. The characters are all drawn very cartoonish, but that doesn't take away from the sex appeal (or maybe I'm just into that). The premise sometimes gets lost in the copious quantities of copulation, but the story follows (curvy like) two heroines saving the world, sometimes with sex.
—Al Rosenberg
Batwoman #4, written by W. Hayden Blackman and J.H. Williams III, art by J.H. Williams III, colors by Dave Stewart
The romance between Kate Kane and Maggie Sawyer is a prominent part of Batwoman, and this issue finally gets them into bed.  The gorgeous sex scene done in sepia tones would be a delight on its own, but as a scene between these two women in a mainstream superhero book it's really a stand-out.  Also, not to be crude, but this isn't just a vague *and then the sex stuff happens* scene, which can happen with lesbian romance where you're not quite sure if the creators know how two women have sex together. It's so, so good, even if you aren't normally into superhero stuff.
Why yes, this a sex comic, although someone judging "sex" according to the mainstream definition may not think so. The main character, Anwar, is asexual, and he's trying to figure out what that means as far as relationships go. His last romantic relationship was with his current best friend, JD, but the romance ended when he confessed that while he enjoyed pleasing his partner, he didn't enjoy the act of sex. And now there's Chris, an older man who occasionally wears a dress and heels and enjoys being a sub to dominant women. Anwar has some chemistry with him, but he doesn't know how to approach a relationship. Aren't their definitions of a fulfilling relationship hopelessly different? Well, that's where it all begins! Anwar, Chris, and JD may not always know exactly how to express what they want and need, but they have respectful, caring conversations and interactions. Romance, sex, friendship—all relationships are complicated, and there are many shades of grey between the definitions listed in the dictionary. Shades of A does a wonderful job of showing the nuances of being true to yourself and to others.
—Amanda Vail
Sunstone by Stjepan Sejic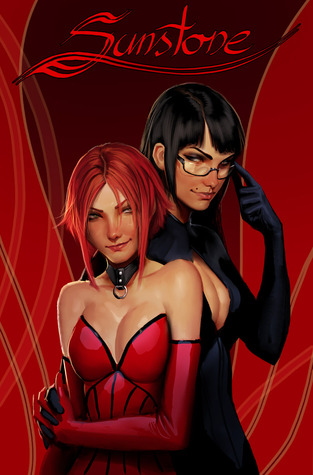 Based on the art alone, you can see that Sunstone is all about BDSM, but you don't have to dig too far down to find that there's so much more going on. If you're curious about BDSM, this is a great place to start, as it provides a lot of information on the many important aspects of BDSM culture, such as trust, consent, and after care, but I am certain that you will stay for the completely adorkable relationships of these very human, very relatable characters. The story centres on Ally and Lisa, a sub and domme, who meet online and develop a relationship based on their shared kink. The women spend just as much time in corsets and PVC and BDSM clubs as they do in comfy jeans and sweaters, sitting on the couch playing video games and eating take-out. Read my full review here.
—Wendy Browne
I'm not used to sex in X-Men comics. Hell. I'm not used to sex in mainstream comics, period. I mean, I know the characters have sex and sometimes the writers even show them *gasp* naked in bed with sheets artfully covering just the right parts. But this comic puts it right out there in the title. Yes. There is sex. Wolverine and Domino have it. Also, they shoot and stab things. A lot. There's a story in there somewhere. About an assassin's guild and a heist and a mark on Domino's head or something. But to be honest, I bought this book entirely because (A) I love Domino, and (B) I love feisty sexual tension, especially between characters who just want to get down and dirty and don't care about all that relationship shit. Because sometimes, it really is just about the fucking. And the shooting and stabbing of things. Together.
—Wendy Browne
Artesia by Mark Smylie
Artesia is both concubine and captain to the king. Some deride her as a witch, but Artesia could care less what such people say of her connection to the gods of the Known World. When it comes to sex, she is not bound to the king and takes her pleasure when and where she wants it. It is not uncommon for the war camp to hear her nighttime escapades, and her commanders take it in stride, even when she murders the men she sleeps with, naked in her bed (because they were assassins sent to kill her, which she knew, but hey, why not get some first, right?). We don't see much of her relationship with the king, but we do see the beautiful moments she shares with his other concubines, whom Artesia refers to as the sisters of her heart.
—Wendy Browne
This is a powerful narrative about sex and chronic illness. Peeters wrote and drew this graphic memoir about falling in love with his HIV positive partner, and her seropositive son. Sex is addressed in a practical, powerful way. Sexual protection and health is at the forefront, and frank conversations with doctors about their sex life are illuminating. Peeters addresses HIV positivity as a chronic illness, not a death sentence, and the sex is still allowed to be sexy and meaningful and spiritual. The art is sketchy, thick black line art and really quite lovely.
—Al Rosenberg
Sex Criminals by Matt Fraction and Chip Zdarsky
This is the heart-warming story of Jon and Suzie, who meet, screw, and find out they can stop time when they have an orgasm, which naturally leads to a bank robbery. They had the best intentions, of course. Jon and Suzie are not bad people. But one thing leads to another, and now they're fighting back against the Sex Police, a group of people who can also stop time with their orgasms, and feel it's their right to monitor everyone else who can and keep them in line.
Cherokee pointed out the sad low instances of oral sex in the comic, and Kelly opened up about how the comic spoke to her in a very personal way, which just shows how many different ways you can read Sex Criminals. It's sexy, awkward, and really uncomfortable at times, and that is how real life relationships are. There's an honesty to Jon and Suzie's fucked up relationship that keeps drawing me back to this comic, and the letters in the back are utterly amazing.
—Sarah Richardson
TJ and Amal is a complete, beautifully illustrated webcomic that follows Amal, a medical student who just came out as gay to his conservative Indian parents, and TJ, a mysterious burnout who's spent most of his life in trouble, as they embark on a road trip to Providence, CA to see Amal's sister graduate from college. The pair meet in a bar while Amal is recuperating from his disastrous coming-out by getting wasted, and are complete strangers. However, as they travel through beautiful California countryside and get to know each other better, their relationship starts getting intimate.
Amal is very concerned with ensuring that TJ—because of his past—always consents to sex, and that he feels he has power while having sex. That ongoing dialogue really adds to what is already a fun, gorgeous comic. There's a lot of humor throughout and lots of weird, road trip shenanigans (wait until you see TJ's face when he realizes they're south of the Mason Dixon line and can eat at a Waffle House!) so you are guaranteed to love it!
—Alenka Figa
There just aren't enough fantasy comics that deal with "realness." Alfie is a Halfing, living in a typical Halfing village. A caravan of humans and elves stop outside the village for a spell, and that's when things get interesting. Alfie accidentally spies on her (married) friend having sex with a Human, whom are twice the size of Halfings. She becomes morbidly curious about sex with a Human. There is also her mother, Vera. Viewed contemptuously for her past and upbringing, Vera is a hard-as-nails smith of the village. The caravan's owner, the elven Duvain Ailduin, orders an item of a very specialised nature and finds Vera's domineering brusqueness stimulating.
This is a webcomic I've only run across in the last few months, but is fast becoming a favourite. I love the dynamic of two women exploring their sexualities in very different ways, while exploring alternative fetishes. Alfie is quickly falling into lust with the idea of Human-Halfing coupling, and Vera has to question whether what little propriety and pride she goes above exploring sexuality she never thought she'd face. I also find it refreshing because it's so rare that fantasy looks at Halfings as sexy! And I love the artstyle. The first chapter is a bit sketch-like as the style is firmed up, but it goes into clean lines and shading by chapter two. The panels are all detailed and the SEX! No punches are pulled when it comes to the sweet lovin'. I'm really looking forward to more of this comic in the future.
—Cathryn Sinjin-Starr