Happy July, everyone! The summer anime season is in full swing, virtual anime conventions are streaming, and VIZ Media has new releases for you! This month we're covering some old favorites of mine and a book new to the VIZ lineup, Devil's Candy. But first, the news.
Chainsaw Man promotional video released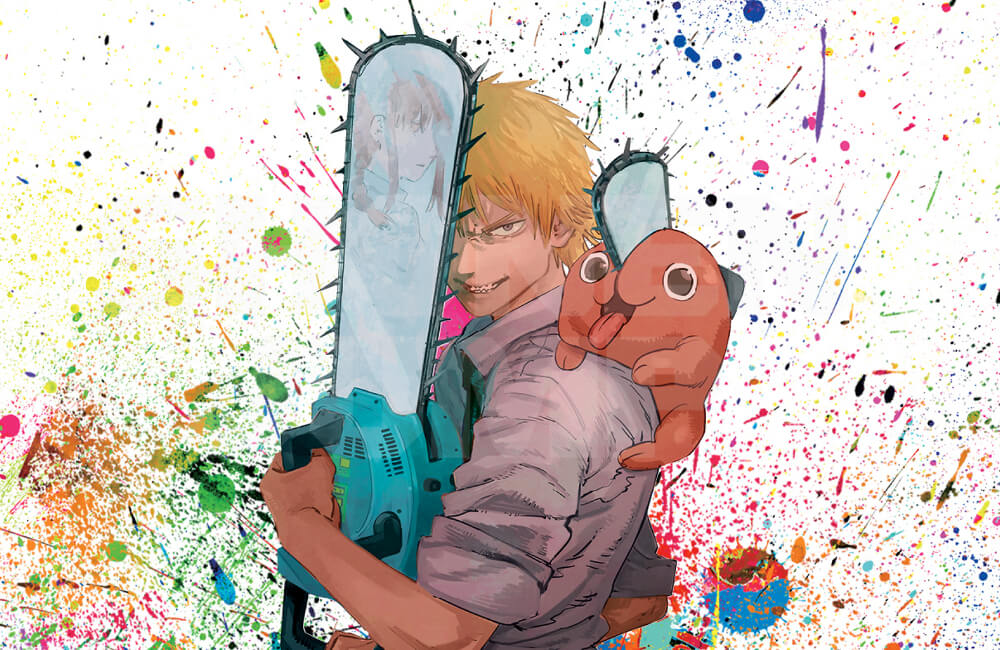 On June 27, MAPPA studios released a promotional video for the animated adaptation of Chainsaw Man, set to air in October 2021. Chainsaw Man fans lost their minds, and manga fans who'd been thinking about reading Chainsaw Man and not getting around to it (me and my friends) finally read this 98-chapter series by Tatsuki Fujimoto. I don't have a lot of expectations for the animated series right now, but the buzz around the trailer made me read the manga and it was honestly one of the best comics I've ever read in my life. If you don't mind gore and violence you need to read it right now. The whole thing's on the Shonen Jump app and website, go go go!
Junji Ito art giveaway at Comic-Con@Home 2021
On July 24th at 3 PM PDT, master horror mangaka Junji Ito will be discussing his work at Comic-Con@Home 2021 while illustrating a one-of-a-kind shikishi art board. Fans who favorite the Junji Ito page on VIZ's website will be entered in a giveaway for this shikishi board. Exciting! There are also free wallpapers from Ito's new book Sensor to download for phones and computer screens. If you miss big in-person conventions, let Junji Ito's extremely detailed and frightening artwork soothe your soul.
"Mangaka Mania" Content Series announced
On June 21, VIZ's social media accounts declared "Mangaka Mania '21: a content series (not for cheugs)". This appears to be a lineup of virtual panels featuring various mangaka that work with VIZ, including the aforementioned Junji Ito and other creators of manga old and new. The first of these Mangaka Mania events was a panel with Kousuke Oono, creator of Way of the Househusband, at virtual Anime Expo on July 4th. As a fan of several of these creators' works, I'll be keeping an eye out for any new announcements about upcoming Mangaka Mania events, and I encourage you to do the same if you're interested!
Speaking of comics I like, let's talk about…
What I'm Reading
BEASTARS Volume 13
Paru Itagaki
July 20, 2021
BEASTARS manages to be a comic about anthropomorphic animals living together that isn't also an overwrought allegory for racism. The manga avoids making the carnivore/herbivore dichotomy a one-to-one parallel for any specific form of real life oppression, and instead uses the particulars of how different types of animals interact with each other to comment on many societal issues at once. In volume 13, the reader is introduced to the world of marine animals and fish with the seal Sagwan, Legoshi's new neighbor. We also learn more about Seven and her frustration at being a tiny sheep working in a company full of large carnivores, and Yahya and Gosha's backstory. I love getting to see more of the fascinating world BEASTARS is set in as we meet more of Legoshi's neighbors at the apartment complex and learn about all their different lives. It's fun and I enjoy it. Paru Itagaki is also on VIZ's Mangaka Mania lineup, so looking forward to hearing more about her process there!
Asadora! Volume 3
Naoki Urasawa
July 20, 2021
Asadora! volume 3 weaves together a tangle of seemingly disparate plot threads- the kaiju appearance, the scientist studying it, the upcoming olympics, Asa's friend getting scouted by an entertainment agency, everything happens so much in this version of Tokyo in 1964. We get more evidence of the kaiju actually existing and learn more about how what remains of Asa's family functions together. I love Asa's tenacity and boldness, but also how Urasawa depicts the everyday and mundane situations in this world like boiling a packet of instant ramen. I also enjoy how Kinuyo and Kasuga have become part of Asa's family, Kinuyo even going so far as to tell the neighborhood kids they were wrong to say she's not the Asada children's real mother. Urasawa's strengths in depicting both the fantastical and mundane in a single story really shine in Asadora!, and I look forward to reading more.
Devil's Candy, Volume 1
Rem and Bikkuri
July 13, 2021
Webcomics fans might recognize Devil's Candy, as it's been posted online since 2014. I read… half of the first chapter seven years ago and then kept forgetting to go back to it. But! The VIZ edition of the first three chapters is gorgeous and features several pages of exclusive worldbuilding extras for both new and longtime fans to appreciate. Rem's art is incredible, drawing on manga influences while still creating something unique and recognizable. I wish the opening pages were in full color, however, as they don't read as clearly in grayscale as they do on the Devil's Candy website. The story is fun: in a world populated by different kinds of devils, teenage imp Kazu builds a person for his biology class project, and it works! Now he has a girl named Pandora living in his house and going to school with him. Devil's Candy follows Pandora, Kazu and their friends learning what it's like to live in Umbra City. Eye-catching battles and snappy dialogue make this opening volume a delightful read all the way through.
That's all I've got for you this month! Tune in next month for more manga news and reviews!