Welcome to the Top Cow Pubwatch, where I check out what's been going on at the Cow and what's coming up. First up, in the news, there are a few quick hits to check out, as well as some exciting news and comics to look out for.

Top Cow News
Port of Earth is heading to the small screen, with Skybound Entertainment picking up the title for an Amazon Prime release.
Stjepan Sejic was featured on the Outside the Panels podcast, chatting about Mercy.
Are you reading Witchblade, Vindication, and Eclipse? Comixology thinks you should be, putting the latest issues of each on their recent top 100 new releases list.
Top Cow's recent Facebook poll asking fans their comic box preference resulted in Sara Pezzini edging out Jackie Estacado by 2%. What does this mean for fans…? We're not sure yet, but my wallet is ready.
Postal is back with the first issue of "Deliverance" available in July, including a new cover by Linda Sejic.
The first volume of September Mourning will be available in comic stores on April 3, and in book stores on April 9.
Infinite Dark will launch a whole new story arc next month.
Matt Hawkins shared a page from a Linda Sejic addition to Swing Volume 2.
Keep an eye out for the first volume of Paradox Girl by Cayti Bourquin and Yishan Li, which collects the first six issues of the series from Kickstarter.
Out This Month
On My Shelf
Of the books that Top Cow has released this month so far, these are the ones that have snagged my attention.
Sunstone: Mercy Volume 6
Stjepan Sejic
March 20, 2019
In his opening message, Stjepan Sejic describes Mercy as a Lord of the Rings to Sunstone's The Hobbit, asking readers to embark on a great journey that, while intimately connected to Sunstone, goes well beyond. Sejic asks that readers let go of the typical question of "How does Mercy compare to Sunstone?" and instead embrace Mercy on its own merits. It might be a lot to ask Sunstone's fans to relinquish their feelings about that series in order to step into this separate but completely related one, but it's not an unfair request. Starting with a purposefully pretentious introduction and Sejic's snarkily humorous characters and their relationships, we step back in Alan and Anne's past, before they became the expecting couple they are now. While Sejic doesn't want the comparison to Sunstone, my big takeaway from the first arc of this part of series is the same experience I had with Sunstone: The focus is, as before, on the strength of relationships between people who find people with whom they can be totally themselves, with the added bonus of being able to explore sexuality with them in a safe, loving environment. Whether or not you are into the BDSM lifestyle, anyone can appreciate that awkwardness of youth, and friendships. Friendship and sexy times? What's not to love?
Cyberforce: Awakening Volume 2
Matt Hawkins (writer), Bryan Hill (writer), Atilio Rojo (artist)
February 27, 2019
The team is slowly coming together as Stryker heads off to South America with Aphrodite and Karyn to find the man who can help them bring down Cyberdata. But Ripclaw, the reluctant hero, has little interest in dealing with the people whose twisted cybernetic experiments have changed their lives for the worse.
For the three, the nature of their new bodies is still very new, and Aphrodite must also deal with the fractured memories that plague her, plus the fact that a version of herself from the future has warned of dire things to come. Karyn seems to have magically adapted to all aspects of her new abilities and can even fight soldiers, despite not being able to walk in her previous life. Ripclaw, on the other hand, has embraced his nature, even as he loathes it, and uses his abilities to their bloodiest effect. With Ripclaw involved, the level of violence is amped up drastically, with Hill and Hawkins letting Rojo have multiple pages to tear human flesh apart. Rojo does not put Robert Bearclaw's codename to waste.
Infinite Dark Volume 1
Ryan Cady (writer), Alex Lu (story editor), Andrea Mutti (artist), Troy Peteri (letterer), K. Michael Russell (colourist), Elena Salcedo (editor)
March 13, 2019

All that remains of humanity after the heatdeath of the universe is trapped on a spaceship that is now haunted by shadows. Security Director Deva Karrell's investigation of the station's first murder leads to something far darker, and far more frightening.
Creator Ryan Cady has spoken openly about the personal darkness that he struggled with during a recent time in his life. Though he has since pulled out of that depression, the experience stays with him and has shaped this story, as has his love of the horror genre. Infinite Dark opens with Karell floating alone in the endless darkness of space. It deals with her struggles with "void exposure." And the looming thread through all of it is the overwhelming sense of aloneness that comes from the reality of their plight. But from Cady's experience, he learned about the value of the survival instincts and that is what he writes about here in the four-issue arc exploring humanity's last ditch effort to continue its existence.
Come for the pressing isolation that Cady and Mutti bring to life through this sci-fi horror story. Stay for the backmatter where the creative team share their experiences with the genre.
#TBTopCow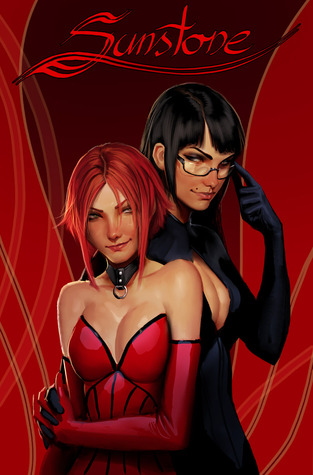 Stjepan Sejic's Sunstone has been high on my favourite comics list since its debut, which I reviewed here. Amanda Vail followed up with reviews of volume 2 and 3, as well as a Drink Your Comics installment featuring some tasty libations based on the book.
Sunstone is a gorgeously rendered exploration of friendship and romance. That there is BDSM involved is a fine bonus, but it's really the warm-hearted, adorkable, and completely relatable human moments that make this story work.
This story came from Sejic's need to break away from the rigid expectations of working on other IPs. Taking a break to just do his own thing on DeviantArt as part of his own kind of self-care, Sunstone developed a following that ironically brought him back to regular series work that is now on its sixth volume.
---
That's it for this month's Top Cow Pubwatch. As convention season starts to pick up again, we hope to catch up with some of the creators at upcoming events!