It's deeply, horribly, insufferably hot on the northeast coast of the US, which means I'm writing this while touching as little of my computer as physically possible. So let's jump right in! July has brought yet another crop of incredible campaigns, ranging from artbooks for industry big shots, to tiny charity zines. Check them out, and give yourself something to look forward to once we're free of the sun's unceasing wrath!

Ominous Press
Ends July 12
Jim Starlin, legendary creator of The Infinity Gauntlet and some of the most famous Guardians of the Galaxy, is teaming up with Ominous Press to produce two new books: Black Book: The Art of Jim Starlin and Mindgames! Black Book is an art book mostly filled with never-before-published sketches and private commissions, all alongside Starlin's own commentary. Mindgames is a oversized hardcover illustrated novella (mostly prose, with illustrations!) that goes to all the weird space places Starlin is known for.
Ananth Hirsh and Yuko Ota
Ends July 13
Barbarous is the story of a magical university dropout, a big ol' golem superintendent, the weird building they help maintain, and their myriad emotional issues. The story is full of hijinks and wry humor, and maintains its levity effortlessly despite the fact that none of the characters seem particularly happy. Barbarous is currently being published on the Johnny Wander site, and is about to start its fourth chapter, so chapter two is all done and ready for print! You can read all three posted chapters right through here. This campaign will print the second chapter in an oversized 9" x 11.5" format, showcasing all of Yuko Ota's Itnatz-winning artwork and J. N. Wiedle's vibrant colors.
Bedside Press
Ends July 14
Sally the Sleuth was a pioneering heroine in American comics: she was adventurous, audacious, and had an alarming tendency to lose most of her clothes. She's also been mostly forgotten: after an almost 20-year run, she vanished from serial comics, and her adventures have never been fully collected. Until now! Hope Nicholson and Bedside Press are going to collect Sally's adventures into one nearly 300-page volume. The campaign ends soon, though, so act fast!
Kel McDonald, Kate Ashwin, Sloane Leong
Ends July 13
Oceania is the fourth of in a the Cautionary Fables series, collecting comics inspired by the folklore of Hawaii, the Philippines, New Zealand, and other communities and cultures from throughout Oceania. The book includes work from McDonald, Ashwin, and Leong, as well as almost 20 other creators, many of whom hail from Oceania themselves! All the artwork for the book is done, and the campaign is meant to raise funds to print the book and pay all the contributors. If you're new to the Cautionary Fables series, you can also pick up copies of all three already-published volumes: Europe, Africa, and Asia!
Colin Lawler and Joseph Grabowski
Ends July 16
In Spirits, Colin Lawler and Joseph Grabowski tell the story of a 12-year-old boy, Will, and his mentor, Nora, as they journey through a magical world in search of Will's brother while trying not to let their souls get eaten. The Soul Collector is the first print volume (around 20 chapters) of an ongoing webcomic, collected into a full-color 7" x 10.75" volume with French flaps (my very favorite paperback enhancement). Backers can also pick up a couple different prints, or a personalized sketch in the book!
Kirsten Thompson, Christianne Gillenardo-Goudreau, Taylor Esposito, Little Corvus
Ends July 18
Of particular excitement to our team, I Am Hexed is a magical-political thriller written by former WWAC contributor Kirsten Thompson, with art by Christianne Gillenardo-Goudreau, letters by Taylor Esposito, and covers by Little Corvus and Meredith McClaren. In the world of I Am Hexed, witches are bona-fide political constituents, although they face a not-insubstantial amount of prejudice and discrimination in society. The story follows Charlie Helm, a political staffer in DC, who gets sucked into the whirlwind of behind-the-scenes political intrigue and has to gather what help she can find to avoid being ruined. I Am Hexed #1 is the first of a four-part series, and the funds from this campaign will help fund printing and art production for the issue!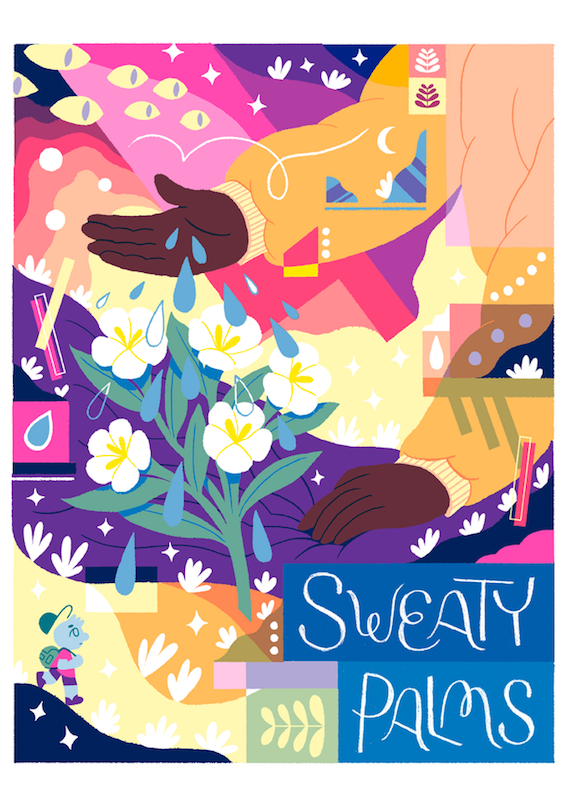 Sage Coffey
Ends August 4
Sweaty Palms is an anthology about anxiety. And, now under the gentle guidance of Sage Coffey, it's back for volume two! The book is over 300 pages and includes work from 45 indie cartoonists including Sfé R. Monster, Liz Yerby, Shan Murphy, and more. The first volume of Sweaty Palms was similarly big and beautiful, and Sage is carrying on the tradition proudly.
Anna Somer and Mikkel Somer
Ends August 5
Anna and Mikkel Somer spent two weeks in Nepal, visiting and helping out with a children's home an hour outside of Kathmandu. During their time there, they collaborated with the kids to make a 20 page zine. Each spread in 10 Kids in Nepal pairs a comic by one of the kids with their portrait, drawn by Mikkel, and all profits from the campaign are going straight back to Nepal to help pay the kids' rent and tuition. This project, though small, looks like it's coming from a place of genuine kindness and good intention, and if the Kickstarter images are anything to go by, the zine will be a genuinely wonderful piece of work!
Memokkeen and Sofie Wikström
Ends August 7
In the spirit of Sweaty Palms and Corpus, Invisible Illness is a collection of comics about anxiety by a diverse crew of creators, most of whom live outside the US. Editors Memokkeen and Sofie live in Sweden, and the anthology includes contributors from a total of 15 countries, creating an anthology that unites its contributors under a common, worldwide experience: always being so dang nervous. Not only is all the artwork for Invisible Illness: Anxiety already done, the editors have also already received a printed proof of the book, so as soon as the campaign wraps up, they'll be able to dive right into production.