Here we are again, with another week of news from the comics world brought straight to you. We do hope you had some good time off this weekend, whether you had a holiday or not. This week on Previously, there's some good news and some bad news. We'll balance it all out for you here.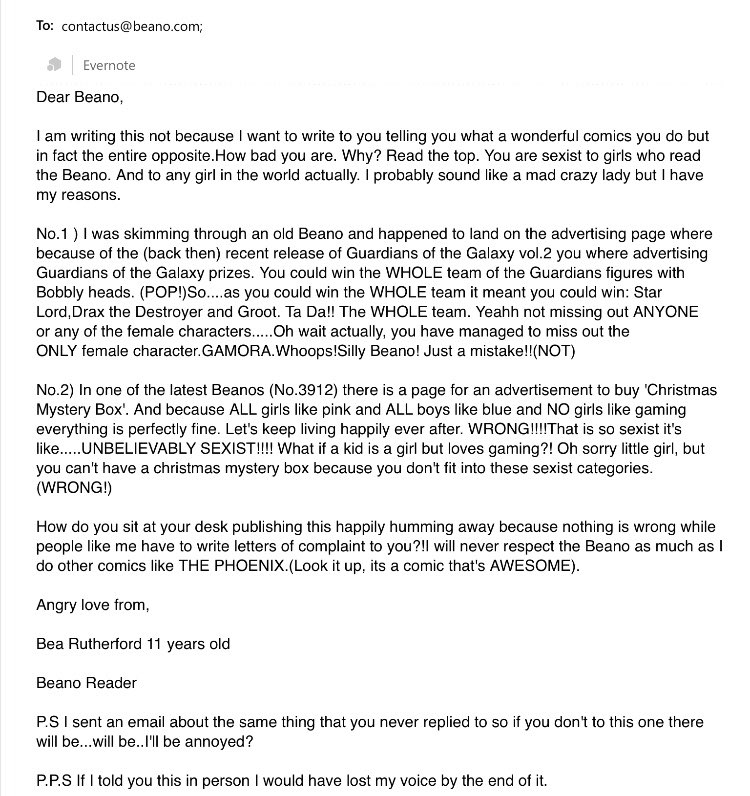 An eleven-year-old girl took on a British children's comic book called The Beano this week, and in a well written letter demanded that they examine how sexist adverts they carry and prizes the offer impact young women. Miss Bea Rutherford highlighted the advertising throughout the publication for Christmas packages made for boys and girls, and a giveaway that included an entire set of the Guardians of the Galaxy… Without Gamora. Action figure production as a source of gendered cultural bias, of course, is well-established. Bea's missive was well received and The Beano issued an apology in another win for young women everywhere. Keep it up, Bea!
The controversy over the artwork of Jeanette Hayes continues on after the emergence of an aggressive article from ArtNet this last week, in which reporter Rachel Corbett defends Hayes' side of the story. The article title accuses "anime superfans" of being "out for blood,"when in fact it has been a group of artists, manga and anime fans, and Asian art scholars who have pointed out the obvious art theft in Hayes' pieces. In Hayes' eyes her artwork is an appropriation of "Internet culture," and what is available online is "hers". The article's URL is particularly of note, as it reads "hayes-trolled-reddit-4chan", another indicator that ArtNet is looking to fuel the fire of online debate with their article. Hayes was approached by users on Twitter and Instagram who were upset about her work being traced from others', and though many trolls were involved along the way the driving concern was of art theft. On the other side, Buzzfeed reported on the originally accused works in later October for those who are interested in the roots of the debate.
After the sale of Millarworld to Netflix in August, Mark Millar retired to his hometown of Townhead, a part of Glasgow in Scotland. The creator of Kick-Ass, Kingsman, and other multi-million dollar comics franchises has decided to put his own money into the area to rehabilitate the town, including investment into 30 new homes that he hopes to make available to families in need. Millar and his wife have plans for a charitable foundation and many different boosts for the community. They've chosen some derelict land to save, which will be the site of the new homes. Millar had hoped to invest in the town previous to the sale of his work to the American media giant, but feels he truly has the capital to invest in Townhead now. Read the lovely interview with Millar here.
In the wake of Hollywood's reckoning this year, Rurouni Kenshin creator Nobuhiro Watsuki was arrested in Japan for possession of child pornography at his personal office this last week. He is quoted as telling authorities that he has been interested in girls as young as elementary school age. Investigators have been following the case for some time, starting with Watsuki's purchase of some illicit DVDs they had discovered. Fans have responded variously with anger and disappointment online, though it does seem that Watsuki had been under suspicion for quite some time.
It looks like there will be some recentering for the British MCM Comic Con after mega-convention company ReedPop's purchase of the entire event season. MCM announced on Twitter this week that they'll be shuttering convention events in areas Telford, Liverpool, and Northern Ireland. Perhaps this is the influence of ReedPop, who seems to have chosen to concentrate the events at the other four locations left on the map. Fans on Twitter asked about ticket redistribution and what the details would be, but MCM seemed unable to answer with details as of yet.
And it's still Cyber Monday folks, so don't forget to check out WWAC's coverage of weekend comic sales for the American holiday season, many of which are online. It's good to have comics, especially when you can also save money while doing so.
If you missed last week's Previously on Comics, find out more about artist Kate Beaton's fundraiser to help her sister potentially beat cancer, Eddie Berganza's departure from DC, Marvel's new Editor-In-Chief, and more.
In other news:
The Runaways series on Hulu came out this week, and is apparently awesome.
Henry Cavill wants to play a Superman that's closer to the Superman in the comics… And we don't mind.
Doomsday Clock, a 12-issue comic series that launched this week, looks to bring DC characters together with characters from Watchmen. Will it be good?
You can find the entirety of the brand new documentary on Image Comics, created by Syfy, on the Nerdist. It's an oral history called So Much Damage, and might be interesting or infuriating, depending on your current picture of that era.
Read this unusual comic by artist Jana Vasiljevic for Vice.