This year is a big one for Wonder Woman. Not only is it the 75th anniversary of her first appearance, but she has also appeared in a major motion picture and was finally granted her own film for next year. The biggest news of all, I'm sure you'll agree, is that come October, she'll have her own
This year is a big one for Wonder Woman. Not only is it the 75th anniversary of her first appearance, but she has also appeared in a major motion picture and was finally granted her own film for next year. The biggest news of all, I'm sure you'll agree, is that come October, she'll have her own United States Postal Service (USPS) stamps!
I have always been a big fan of the USPS. I love sending and receiving letters, and as a child, I was desperate for a collection of pen pals, just one wouldn't do. I preferred to mail birthday cards to my friends and cousins rather than just handing them off. As I grew older, I discovered the joy of the love letter and the heartbreak of waiting for them. Now I participate in programs like Black & Pink, which connects LGBTQ prisoners and "free world" allies through the mail.
My constant companion through all of this was cool stamps. I buy a lot of stamps, partially because the Post Office comes out with so many cool designs (and partially because I supervise a mail room at my office job). This year has already been great for stamp lovers with the release of Star Trek designs, the Pluto-Explored! series, and the beautiful Sarah Vaughan art.
Then Wondy was announced at this year's San Diego Comic Con. Dedicated fans and letter senders in the U.S. will be able to get these lovely self-adhesing works of art on October 7th at the New York Comic Con. With this momentous news, I thought I would take a look back at all of the geek-chic stamps the USPS has released over the last few decades, as well as some of the comic-themed stamps I've found from other countries. I do encourage budding philatelists to check out the rest of their designs too, but this is a good start.
Wonder Woman (Expected: October 7, 2016) – US
Wonder Woman first appeared in All Star Comics #8 in 1941, but had her own title by the next year. Now, 75 years later, fans still hold a place for her in their hearts, and many are thrilled for next year's big screen debut. Art Director Greg Breeding wanted to pay tribute to this superhero, so his sheet of USPS stamps contains four unique panes, each representative of an era of Wonder. As you'll see below, this is not the first time she's appeared on a stamp, but it is the first time she's had the whole sheet to herself.
Star Trek (2016) – Canada
This collectible sheet of Canadian stamps includes five of the most remembered characters from the original Star Trek series: Captain Kirk, Spock, Scotty, and Doctor McCoy, as well as Commander Kor of the Klingon Empire. The Canadian Post says of these stamps designed by Signals Design Group. "Three Canadian actors appear on these stamps: William Shatner as Captain Kirk, James Doohan as Scotty, and John Colicos as Commander Kor."
Star Trek (2016) – US
These four USPS stamps commemorate the 50th anniversary of the debut of the original Star Trek television series. The designs are elegantly simple in mostly primary colors, decorated with silhouettes of the Starfleet insignia, a crewmember being transported with a beam, the outline of the ship, the Enterprise, and the Vulcan hand salute. These space stamps were designed by Heads of State of Philadelphia, under the art direction of Antonio Alcalá, and released at Star Trek: Mission New York.
The Women of Star Trek (2015) – Tuvalu
Tuvalu's 2015 Star Trek stamps featured the women of the series in a beautiful illustration: Dr. Crusher, Nyota Uhura, Captain Janeway, Hoshi Sato, Kira Nerys, and Jadzia Dax.
A Charlie Brown Christmas (2015) – US
Ten different forever stamps were designed by Art Director Antonio Alcalá and issued by the USPS in Santa Rosa, California as booklets (double-sided sheets of 20 stamps). The Peanuts characters are as cute and Christmas-y as ever in this depiction of the well-loved holiday animation.
Star Trek: Deep Space Nine (2015) – Palau
Palau's 2015 Star Trek: Deep Space Nine  stamps featured six beautiful space crafts adrift in darkness.
Batman (2014) – US
You know what I love as much as I love stamps? Surprises! These stamps weren't initially announced in the annual Upcoming Stamps press release the USPS puts out for aficionados like me. These Batman stamps came with four designs celebrating the Modern, Bronze, Silver, and Golden ages, as well as four different Bat-signals. They marked the 75th anniversary of the Bat and were the selection for the 2015 National Stamp Collecting month (which is a big deal).
Superman Comics (2013) – Canada
Canada paid homage to the Man of Steel with this set of five unique Superman renderings for the hero's 75th anniversary. One of the creators of Superman, Joe Shuster, was born in Toronto.
Harry Potter (2013) – US
According to the USPS website, "The Harry Potter set of 20 stamps was issued at Universal Orlando Resort's Wizarding World of Harry Potter. Folded out, the booklet cover presents an illustration of Hogwarts castle. Inside are five groupings of four stamps. Each grouping is set on its own page and each set of four stamps surrounds the red wax seal of Hogwarts School of Witchcraft and Wizardry…. Described as a Limited Edition, demand is expected to be strong, so a total of 5 million booklets were issued."
Doctor Who (2013) – Great Britain
The 50th anniversary of Doctor Who was met with two sheets of commemorative stamps in Great Britain. These designs included the TARDIS, a Dalek, Ood, a Weeping Angel, Cyberman, and all 11 Doctors.
Superman (2013) – Jersey
These six Superman stamps are from Jersey. According to the Jersey Post, "Each one of the six stamps in the set has been produced using existing state-of-the-art technology, but is the first time each technique has been brought together in one issue. For example, the 80p stamp features real crushed granite to symbolise the Man of Steel's incredible strength. The granite particles were taken from just one small pebble found on Beauport Bay, a popular beauty spot on Jersey's south coast and Henry Cavill's favourite location on the Island. Other features include a transparent stamp (55p), a foil stamp (60p), a thermochromic stamp that, when warmth is applied to the face reveals the Earth from space (68p) and glow-in-the-dark ink revealing a message from the Man of Steel's father, which is only visible in the dark."
"Mail a Smile" Pixar (2012) – US
USPS art director William J. Gicker worked with Disney/Pixar to design this Pixar stamp collection known as "Mail a Smile." It included five designs of Pixar characters: Dot and Flik from A Bug's Life (1998), Mr. Incredible and Dash from The Incredibles (2004), Nemo and Squirt from Finding Nemo (2003), Woody and Jessie riding Bullseye from Toy Story 2 (1999), and Mike Wazowski and Sulley with Boo from Monsters, Inc. (2001). 
The Hobbit (2012) – New Zealand
These six Hobbit themed New Zealand stamps paid tribute to the movie with designs featuring Gandalf, Thorin Oakenshield, Bilbo, Gollum, Radagast, and Elrond.
Thomas the Tank Engine (2011) – Great Britain
Great Britain honored the Tank Engine of children's dreams with a sheet of four of the Rev. Wilbert Awdry's characters usable for four different kinds of post.
"Send a Hello" Pixar (2011) – US
Art directors Terrence W. McCaffrey and William J. Gicker worked with Disney/Pixar to design the collection known as "Send a Hello" for the USPS. Unveiled at the D23 Expo, these designs included Lightning McQueen and Mater from Cars, WALL-E, Carl and Dug from Up, and Buzz Lightyear and the Aliens from Toy Story.
Magical Realms (2011) – Great Britain
These eight stamps from Great Britain feature four pairs of popular mythical characters from Britain: Dumbledore/Voldemort, Discworld's Rincewind/Nanny Ogg, Merlin/Morgana le Fay, and Aslan/The White Witch.
Peanuts (2010) – Japan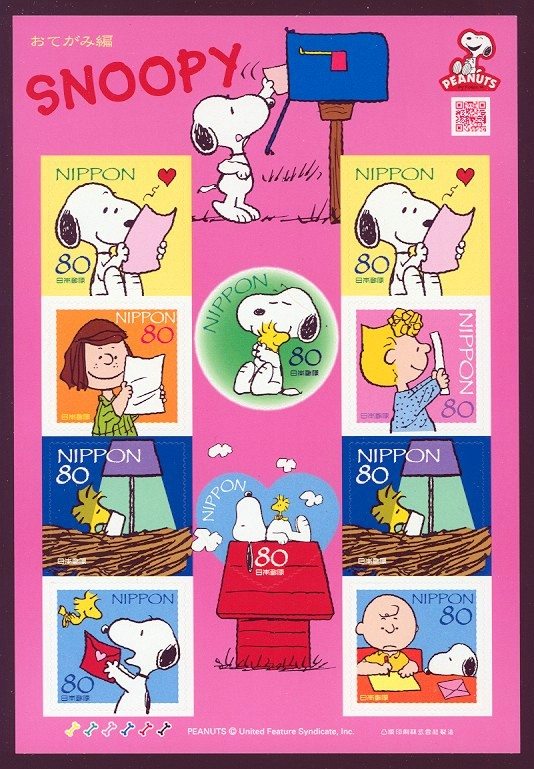 These Peanuts stamps from Japan heavily feature Snoopy, but he is joined by Charlie, Sally, Peppermint Patty, and Woodstock on a Pepto pink background.
Sunday Funnies (2010) – US
These five designs, created for the USPS by Ethel Kessler, who is responsible for some of my favorite Hanukkah stamp designs, honored the joy of The Sunday Funnies. These stamps were of Beetle Bailey, everyone's favorite nihilist duo Calvin and Hobbes, WWAC favorite Archie, as well as that lasagna-loving cat Garfield and Dennis the Menace. 
Star Trek (2009) – The Maldive Islands
The Maldive Islands released these four Star Trek stamps in 2009, depicting Dr. McCoy, Spock, Uhura, and the crew of the Enterprise.
Simpsons (2009) – US
Everyone makes mistakes, and the Postal Service is no exception. Homer, Marge, Bart, Lisa, and Maggie sit in profile on bright '90s colored backgrounds. The USPS thought that these stamps would surely be a huge success as the show has enjoyed top ratings for many years. So, they ordered 1 billion stamps, but only 318 million sold. This was prior to the "Forever" stamp, meaning that once letter rates were increased, one of these stamps alone wasn't enough to send a letter. The stamps released after 2009 are "Forever" stamps, which means they are good for a sending a letter in the US for as long as the USPS delivers letters, even when the price of mail increases.
Star Trek (2009) – Liberia
As you might have guessed by this point in the list, Star Trek is an immensely popular stamp design, because it was a really popular show and because of the human ingenuity it showcased. After all, that's what mail services are all about, moving into the future. These six designs come from Liberia.
Art of Disney: Imagination (2008) – US
At the time of these stamps' release, Mickey Mouse and his fellow Disney characters were the most popular USPS stamp series with 211.5 million collected. The USPS has initially agreed to three collections of stamps, but these four designs would mark the fifth and final in the series. They depicted characters from 101 Dalmatians, Mickey Mouse, Sleeping Beauty, and Jungle Book on pale yellow backgrounds.
The Kampung Boy (2008) – Malaysia
These four Malaysian stamps celebrate the Malaysian graphic novel The Kampung Boy, a story by Lat about a young boy growing up in Perak in the 1950s.
Star Trek: The Next Generation (2008) – Palau
The Star Trek: The Next Generation stamps come from Palau and depict Wesley Crusher, Lt. Worf, Captain Picard, and Dr. Crusher on 94 Palau cent rectangles.
Finding Nemo (2008) – Taiwan
This cute set of five fish stamps from Finding Nemo comes from Taiwan.
Star Wars Thirtieth Anniversary (2007) – US


These Star Wars stamps were designed for the USPS by Drew Struzan for the 30th anniversary of the theatrical release of Star Wars: A New Hope and featured Darth Vader, Luke Skywalker, Han Solo, Chewbaca, Princess Leia, R2-D2, C-3PO, Yoda, Obi-Wan Kenobi, Emperor Palpatine, Boba Fett, Anakin Skywalker, Queen Amidala, and Darth Maul, as well as vehicles and Stormtroopers. Fans were invited to vote for their favorite stamp of the collection, with Yoda winning the competition. The Yoda stamp was released as a souvenir sheet as well as included in the collection.
Harry Potter (2007) – Great Britain
In 2007, Great Britain released these Harry Potter stamps depicting the covers of the seven books.
Marvel Comic Book Heroes (2007) – US
These Marvel stamps included 20 unique designs created by Carl T. Hermann. From USPS.com, "For decades, Super Heroes have been nearly synonymous with the comic book medium; their adventures provide an escape from the everyday and demonstrate that individuals can make a difference." The designs included: Spider-Man, the Hulk, Captain America, Wolverine, Daredevil, Iron Man, The Thing, and more.
The Art of Disney: Magic (2007) – US
This fourth installation in the USPS "The Art of Disney" series focused on "Magic," which means designs of Wizard Mickey, Peter Pan and Tinkerbell, the flying elephant Dumbo, and Aladdin and Genie.
Betty Boop (2007) – Gambia
Six unique designs of Betty Boop on a black background come from Gambia. Betty Boop is a popular stamp design, as you'll find out below.
The Art of Disney: Romance (2006) – US
What was supposed to be the third and final part of the USPS's "Art of Disney" collection, before they decided to milk this cash cow for two more rounds, these lavender-backed stamps showcase the "Romance" in Disney couples, specifically Mickey and Minnie Mouse, Cinderella and Prince Charming, Belle and the Beast, and Lady and the Tramp.
Betty Boop (2006) – Guyana
Well, hello again, Betty! This time from Guyana with another six unique designs. These white-background stamps were high value stamps at $100 Guyana dollars.
DC Comic Book Heroes (2006) – US
These 20 DC heroes stamps came out from the USPS the same year as the "Amber Alert" stamps. They showcase superheroes like Superman, Batman, Green Lantern, the Flash, Aquaman, and Wonder Woman, among others.
The Art of Disney: Celebrations (2005) – US
The second group of four USPS stamps in the "Art of Disney" collection, these drawings of Snow White, Ariel, Alice, and Mickey Mouse represent "Celebrations."
Jim Henson and the Muppets (2005) – US

These eleven unique USPS stamps feature Jim Henson, Kermit the Frog, Sam the Eagle, Statler and Waldorf, Animal, Rowlf the Dog, Fozzie Bear, Miss Piggy, The Swedish Chef, Dr. Bunsen Honeydew and Beaker, and Camilla the Chicken and Gonzo.
The Art of Disney: Friendship (2004) – US
The first collection in the USPS series "The Art of Disney" is all about friendship, with Bambi and Thumper, Pinocchio and Jiminy Cricket, Mickey with Donald and Goofy, as well as some father-son friendship between Mufasa and Simba.
Spider-Man (2003) – St. Vincent
These four Marvel hero stamps are from St. Vincent, celebrating the masked web-slinger in iconic colors.
Hong Kong Disneyland (2003) – Hong Kong
These four stamps from Hong Kong celebrate the opening of Disneyland in Hong Kong and depict Main Street, Fantasyland, Adventureland, and Tomorrowland.
Peanuts: Snoopy (2001) – US
Years before the USPS came out with the Charlie Brown Christmas stamps, they released this Snoopy piloting his dog house stamp.
Betty Boop as Nurse (2001) – Dominica
This was a $5 stamp from the Commonwealth of Dominica, decorated with Betty Boop as a nurse, holding an oversized spoon of medicine, imposed over the medical symbol. The stamp itself was just of Betty's head.
Porky Pig (2001) – US
As a follow-up to the USPS's 1997-2000 Looney Tune series, they put out this Porky Pig "That's All Folks" stamp to end it all.
Looney Tunes (1997-2000) – US
The USPS stretched this Looney Tunes stamp series out for four years, releasing Road Runner and Wiley Coyote in 2000, Daffy Duck in 1999, Tweety and Sylvester in 1998, and Bugs Bunny in 1997.
Jurassic Park (2000) – US
As part of USPS's "Celebrate the 90s Collection," they designed this T-Rex stamp with sea foam green background to remind of all of our favorite nightmare amusement park movie.
Garfield (1999) – Guinea
Guinea released these nine Garfield stamps printed over an ombre rainbow and included everyone's favorite dumb dog and Garfield's love interest.
Snow White, Monopoly, and Superman (1998) – US
As part of the "Celebrate the Century" collection, USPS included Snow White, Monopoly, and Superman stamps.
Star Trek: Voyager (1997) – St. Vincent
These St. Vincent stamps include nine characters from the Voyager series of Star Trek: Lt. Tuvak, Kes, Lt. Paris, The Doctor, Captain Janeway, Lt Torres, Neelix, Ens. Kim, and Commander Chakotay.
Antique Disney Toys (1996) – Guyana
Look at how cute these Disney stamps from Guyana are! The toys featured are Two-Gun Mickey, Mickey doll, Donald Jack-in-the-Box, Rocking Minnie, Fireman Donald Duck, another Mickey doll, and wind-up Jiminy Cricket.
The Jetsons (1991) – Mongolia
Mongolia released these super cute Jetsons stamps in early 1991. They were "high denomination" stamps at their release and came on commemorative sheets.
Wonder Woman #22 (1988) -US
This USPS stamp, designed by George Pérez, celebrated the DC superhero at the height of her popularity in the '80s.
There are so many more stamps out there! Send me your favorite geek chic stamps!
If you're interested in designing USPS stamps, and who isn't really, you can apply to be a stamp designer! They ask that you submit a portfolio, and maybe you'll be one of the lucky 25 artists that gets to see their artwork on envelopes filled with fan letters.