With the release and reveal in Star Wars #6 published by Marvel Comics, and written by Jason Aaron, the love story between Han Solo and Princess Leia we thought we all knew was dramatically changed with the sudden addition of Han Solo's — get this — wife, Sana Solo.
Spoilers for Star Wars #6 below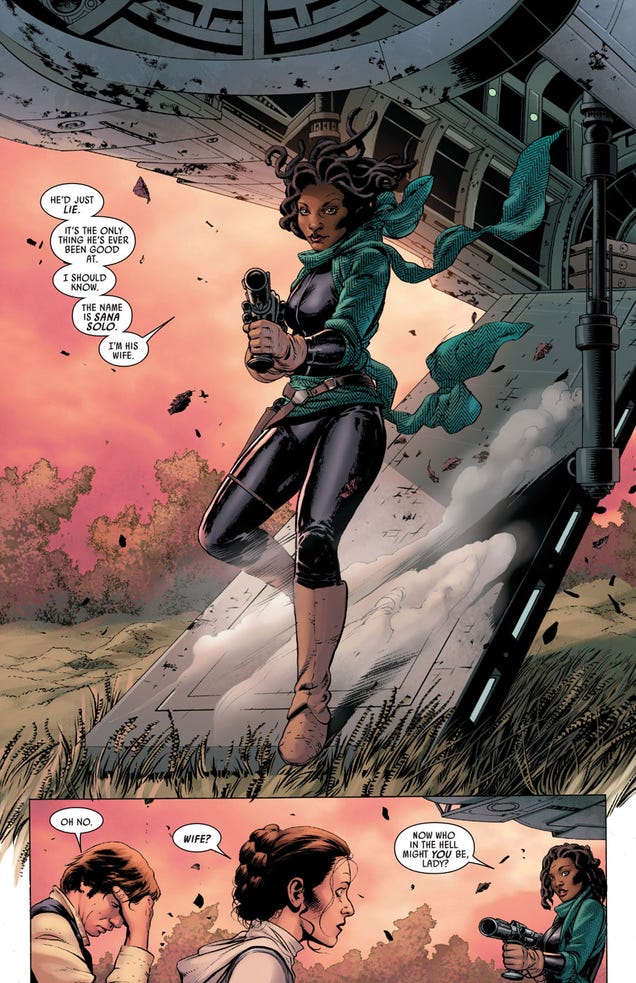 i09 smartly asks: does this mean that during the original Star Wars film series Han Solo was married the entire time? Now, the story has only just begun. Sana and Han could get divorced, their marriage might be annulled through some technicality that Sana refuses to acknowledge, they could break up mutually, or Sana could die during the story. Whatever scenario named or not that occurs within the book, we all know the endgame.
Han will end up with Leia.
We all know that is what happens. We've seen the movies, or at least known of the iconic couple that are Han Solo and Princess Leia. So where, ultimately, does that leave Sana?
As a plot device. Any way you slice it, whatever scenario Aaron chooses to pursue, Sana's character boils down to a romantic plot device to service the love story that is Han and Leia.
I have a lot of concerns about this.
Sana is one of the few women of color we've seen in the Star Wars universe, and her role appears to be causing romantic drama between a white couple. A black woman as a romantic threat to a white woman whom we all know and love sounds like a potential recipe for disaster. Women of color are horribly represented in science-fiction, and seeing a prominent franchise like Star Wars introduce one of their few women of color in this manner is disappointing.
The fact Aaron created a wife for Han Solo and made her a black woman might seem like a brave move, as inter-racial relationships in media are still underrepresented and sometimes even controversial. However, is that decision "brave" if Sana exists solely as a plot device to provide narrative drama between a white couple and to romantically threaten a white female character? Given the various stereotypes surrounding women of color as hyper-sexualized man eaters, or desexualized ethnic best friends, well, this storyline gives me pause.
Perhaps Aaron can pull it off, but I can't help my concern. Best case scenario: Leia and Sana become friends, not defined by their relationship with Han, and Sana and Han part as friends. Worst case scenario Sana dies as a martyr allowing Han to pursue Leia guilt free.
Lets hope for the best.