Dear Mr. Manara,
You remember the Spider-Woman variant cover you drew that's being discussed all over Twitter and the news sites, right? No? Here's a refresher: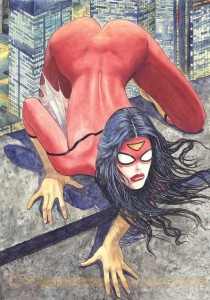 This is the solo Spider-Woman comic that Marvel announced at the Women Of Marvel Panel at San Diego Comic Con and Marvel has been pushing female led titles lately to reflect their growing female audience. It's been successful thus far, with Captain Marvel, Black Widow, She-Hulk, the new Thor (Marvel doesn't want us to call her Lady Thor) and the newly minted Muslim superheroine, Kamala Khan, in Ms. Marvel. Marvel had been doing really well but, to the cynics out there who've experienced the worst the comic industry could throw at them time and time again, it was only a matter of time before the other shoe dropped. And then, it did with your Spider-Woman cover, Mr. Manara. If you were following the discussion before your Fumettologica interview, you would know that few were specifically attacking you as an artist or your style of art. Instead, they focused on context: a female superhero aimed at a female audience, and published by Marvel comics. Your style is steeped in the world of erotic comics in which you are more frequently employed. Marvel knew what it was getting into when it hired you, Mr. Manara: erotic art outside of its usual context. However, the Fumettologica interview may have people singing a different tune, given that you made offensive, ignorant and down right ridiculous comments about the controversy. Let's break it down shall we?
"On the erotic side, however, I found it a bit amazing. Apart from the fact that there is a mandatory thing that I have to start by saying: it seems to me that both in the United States and around the world there are things much more important and serious to worry about. The events at Ferguson, or the drama of the Ebola."
I hope, Mr. Manara, you realize that human beings aren't two dimensional. We're complex. We feel more than one thing at a time. We think about more than one thing at a time. We can get angry at multiple things in a given moment. I can be really upset that I failed a test and still have room to get mad about Ferguson, Gaza, annoyed at my siblings, etc. Arguing that issues of media portrayals of women, those with disabilities, sexual orientation, race and so forth aren't worth getting angry about in the grand scheme of things is indicative of someone who doesn't have to deal with the repercussions of those portrayals everyday (or lack thereof).
"That there are people getting angry for things like that … Unless there is, these days, a hypersensitivity to more or less erotic images, due to this ongoing confrontation that we are supposed to have with Islam. It's known that the censorship of the female form should not be a feature of our own Western civilization. This is what I find also quite surprising."
I've had plenty of WTF moments in the last few weeks but this one just makes me chuckle angrily. As a Muslim, I can attest that Islam is not a fan of erotic images (static or otherwise). Christianity is also not a fan. My neighbour Nancy isn't a fan either but she's a child of the 1950s. This has nothing to do with Islam, Mr. Manara. This has to do with people's upbringing and personal tastes. Islam is not plotting to take over the world through the dissemination of prudish behaviour! Have you not seen HBO? Have you not seen most of British television? The confrontation between Islam and the West has been going on for a long time and has only reached the consciousness of the everyday western citizen after 9/11. I don't mean confrontation in terms of war, bombings etc., but in terms of how Islam and Arabs are discussed in Western media. So many people in the West are ignorant of the religion, and it's been vilified since long before 9/11, through Orientalism. Your remarks add to the very problematic and harmful discourse in regards to Arabs and Muslims in the West, which is already institutionalized through policies like the Patriot Act and targeted searches in airports.
"What I wanted to do is a girl who, after climbing the wall of a skyscraper, is crawling over the roof. She finds herself on the edge, and her right leg is still off the roof. So the criticism about anatomical issues that were made, I think they are wrong: she's not to have both knees on the roof. One leg is still down, and the other is pulling up. Precisely for this reason, also, then this back arched. This is what I tried to do."
Really? You were just drawing a woman crawling over a roof? And yet her pose is almost identical to that of the woman featured on the cover of your erotic comic: CLICK.
Or maybe she's climbing over a roof too? This isn't anatomically correct in any sense of the word — but I'm not an artist, right? So why listen to me? An actual artist, Karine Charlebois, has an entire blog dedicated to redrawing comic book art featuring women so that it looks anatomically correct and guess what, Mr. Manara? Your cover fails big time.
"That said, it's not my fault if women are like that. I'm only drawing them. It's not me who made women that way: is an author much more "important," for those who believe … For evolutionists, including me, on the other hand, women's bodies have taken this form over the millennia in order to avoid the 'extinction of the species, in fact. If women were made exactly as men, with the same shape, I think we would have already been extinct for a long time."
We already established that you're not "only drawing them" because that's not how human women are built or how they move. Not all women's bodies look the same or behave the same. Not all men's bodies look the same or behave the same. In fact, the concept of the sexual binary isn't as scientifically solid as you may think: there is variation within and throughout the sexes as well as variation in body types. Many variables play into why a species thrives or becomes extinct and it sure as hell doesn't involve what's going on in your cover.
"Also, I do not consider it one of the covers most erotic I've done. I think I have chosen, out of all the poses imaginable – and the proof is there, if one goes on the Internet, where I documented myself, to see all the photos of Spider-Woman – the one that is , even framing, less problematic. If fact the view is a bit from above. You do not see hardly anything. We see only that she has an ass, drawn this way. And it's a girl with a nice ass, indeed, at least from my point of view."
Please see Karine Charlebois' anatomical corrections above and also check out her further explanations on why the cover is problematic, especially in regards to your "the view is a bit from above" argument. "Also, I do not consider it one of the covers most erotic I've done." Yes because you draw erotic comics for a living. Again, CONTEXT. You're sexualizing a female superhero, not drawing a character in an erotic comic. We've already established this isn't an erotic comic but, sadly, some still forget this little known fact.
"Sure, of course, since women are built in a certain way, any movement they make, if they are nude … and to some degree, more or less, all super heroines are naked. And this cover isn't any different. And Spider-Woman is not gonna be sitting in a chair, right? But if one goes on the internet to see all the other images of the character, there are many far more erotic, and if they were naked, they would be more vulgar than what I did. Instead, as we know, this leotard, this – let's say – 'colored plastic wrap' is what saves all appearances."
These are powerful women. Whether you see the contours of their bodies isn't the point. There's a difference between painted on costumes and drawing spandex. There's a difference between a character with agency over their power and sexuality (subject) and a character whose body is manipulated to appease the male gaze (object).
"I'm not so convinced, though, by the last part of the controversy. That is, those who accuse Marvel that while trying to take a stab at capturing the female audience, by using a cover of that kind, they're commissioning it to me, an artist who, you know, has a male audience. I totally reject this. My audience is at least 50% female. I know it for a fact because when I go to festivals, and I see the queue of those who put themselves in line to get signed books, there are more women than men. Therefore, I also reject the notion that the celebration of the female body interests only to males: I do not think so."
1. If I want erotic comics, I'll read erotic comics. If I want a female led superhero book, I'll read a female led superhero book. Say it with me, CON-TEXT. The women who visit you at conventions want to read your erotic comics. I wanted to read a female superhero book where the lead wasn't sexualized. Looks like I'll read Marvel's other books.
2. Women are the number one fans of their own bodies. Women want to be in control of their own bodies. Women in many places are being told that their bodies should be controlled by people who aren't women, by making abortions illegal, by not being given access to contraception, and by being told that their bodies are objects to be seen and to do with as a man pleases. I reject the notion that you know what women want.
"Interviewer: The author of the regular cover, Greg Land, it's been noted that he is known to sometimes use photos of porn actresses to draw poses in his comics.
MANARA: I wasn't aware of that. I respect very much Land as a draftsman. I see that he is one of the most realistic, and I assumed that he used models, but that he traced pictures of that kind, that I did not know. Unless it's not just unsubstantiated slander? I like his art because it has a certain evocative power, sometimes strong, impressive, so he's among the ones I like. I have seen, anyhow, that some have given anatomy lessons to him too. You never stop learning."
The lovely Karine comes to the rescue once more:
Look, I could go on and on. Your comments are just as problematic as Marvel's decision to use your cover. Its status as a variant doesn't change the fact that it's offensive and it doesn't help that Greg Land is also the artist of the main cover and the interiors. It's simple. I refuse to funnel money into a book that is disrespectful to Marvel's female readers. Luckily for Marvel, they have other and much better female titles available for me to read. Honestly, you should have just kept quiet and let Marvel answer for their decision rather than make the problem as much about you.