Way back when, I found the Bronze Age of Blogs: a blog about bronze age comics. It's great. You can check it out in your own time. One of my favourite posts there, that I've come back to repeatedly, is this. An image-heavy post about Marvel's old, ridiculous, perfect bubblegum stickers. I fell hard for them and I wanted them on my body, so I put them there! here's how YOU can TOO. Happy Halloween!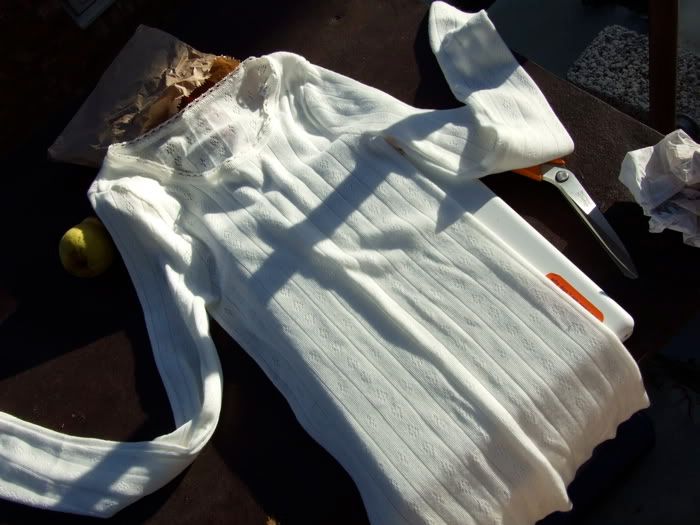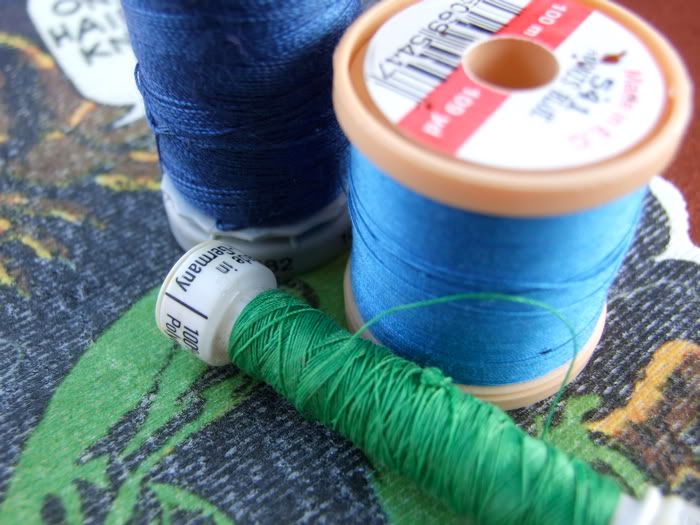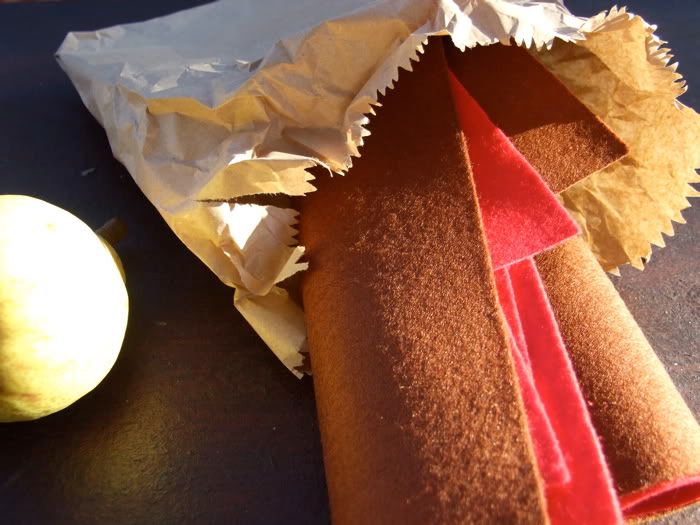 You will need:
Scissors
Thread
A needle
Transfer paper for your printer
A shirt
Some spare white cotton
Felt of a pleasing (contrasting? complimentary?) colour
And your favourite ridic bubblegum image. The first shirt I did was a Tomb of Dracula one (obv–it's Tomb of Dracula. And then there's the Mamie Van Doren link with "it sure don't taste like tomato juice". Mamie's in my favourite MST episode Girls' Town, among other non-classic classics…) but for this photo sequence we're working with Werewolf By Night; good ol' Jack Russell. Aroo-roo!
Method: Pick your favourite nonsense hero, FLIP THE IMAGE, and print their image onto your transfer paper at whatever size you prefer. Follow the packet instructions for ironing your transfer onto your white cotton (I used an old summer vest for this instead of buying a tiny amount of new fabric). Cut it out and admire your success.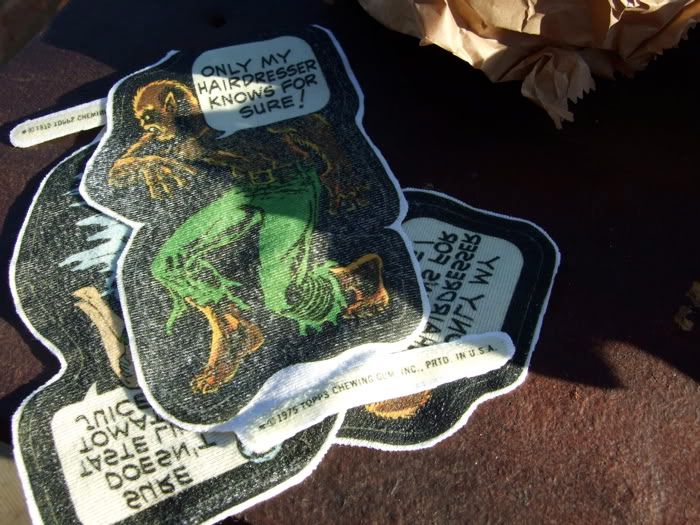 Place the cut-out onto your felt. Think about whether you want to add thematic motifs, or just cut out the same shape. Leave room accordingly.
Pin your fabrics together and sew the cotton to the felt. These stickers have a helpful "sew here" line where the stickers were to be peeled off! Score!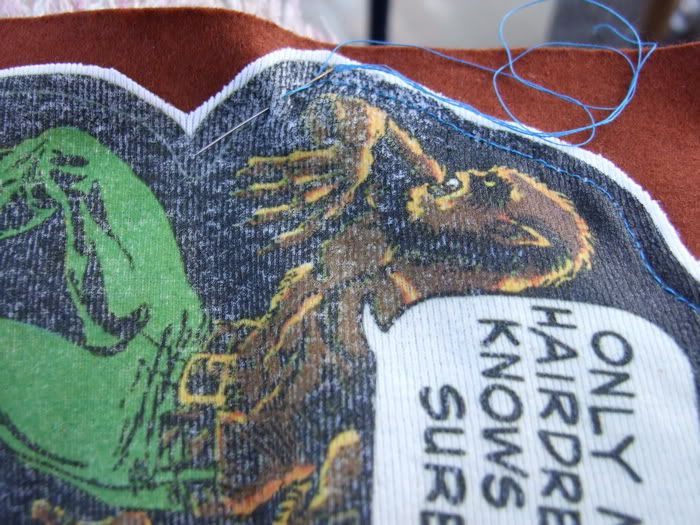 Once this is done–you have a patch! Rad!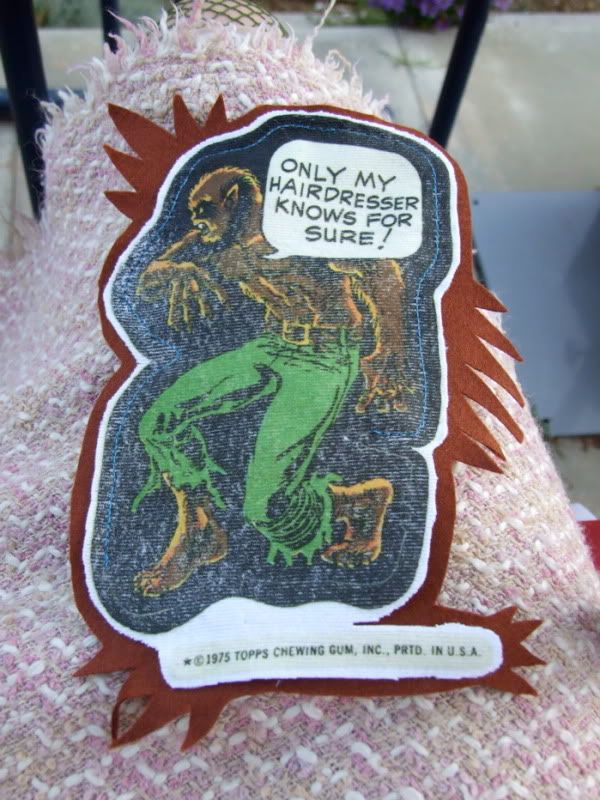 You can put it where you like. On a shirt, like mine? On a denim jacket, like tumblr? Wherever you pick, I wanna see. Send us pics & we'll RT or reblog!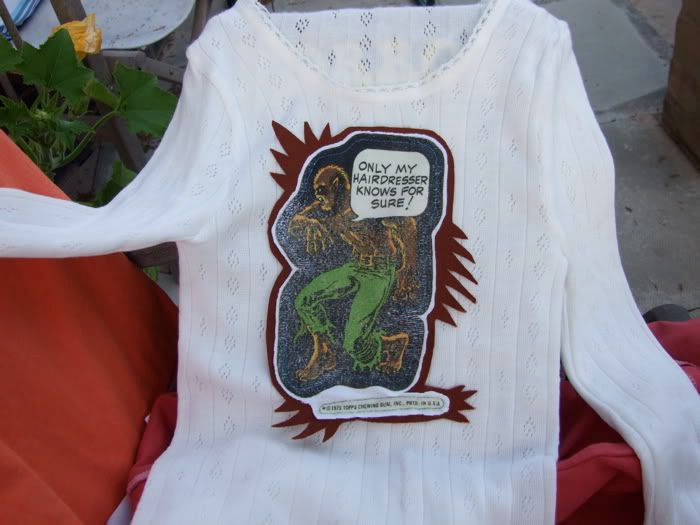 Yeahhh. Bronze age Marvel horror. There's nothing like it.