While there are an infinite number of erotic webcomics, many sexy webcomics live behind a paywall that can be intimidating to those wishing to try out some drawn erotica. Luckily, there's still many which are easily available online for free. I've picked out five of my favorite free erotic webcomics that can keep you company while you wait for your vaccine. 
Alfie
Alfie is a fantasy webcomic that follows Alpheanea "Alfie" Tolman, and her mother, Vera Tolman, as they experience separate journeys of sexual-self discovery. Written and drawn by the anonymous Incase, this comic is perfect for anyone who loves fantasy stories but wishes they were filthier. Alfie does go through long stretches without any sex scenes, so this comic is for people who like plot with their porn. The sex scenes, however, are very explicit and are expertly drawn. There are close-ups of the characters' genitals as they orgasm and how cum drips onto their partners. There are orgies filled with different fantasy races. Incase shows us how a tail could be used to masturbate someone or how a character with horns has their partners guide them through oral sex by steering them with their horns. This sort of creative sexual problem-solving makes the sex scenes fascinating to read. I've already written about my love of Alfie, so if you'd like a more in-depth look at Alfie and why I believe it deserves to be in the discourse more, click here. 
Alfie updates Wednesday, Thursday, and Fridays. For more of Incase's work, check out his Patreon.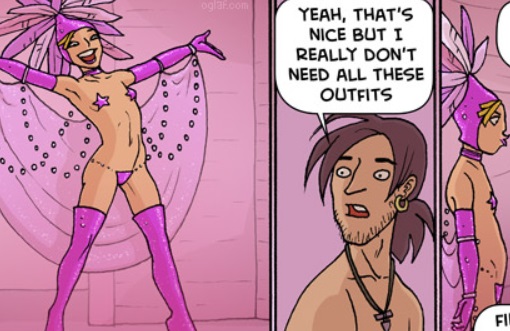 Oglaf
Some folks aren't in the mood for a lot of plot with their porn, but they still want something more than just stand-alone images. Oglaf is the perfect comic for folks who want something a little extra when they read something steamy. Oglaf is a fantasy, comedic sexy webcomic that updates once a week. All of the comics seem to take place in the same universe and maybe even in the same magical country, but most of the comic plots don't last more than a page or two. This format allows the creators, Trudy and Doug, to explore scores of different characters and tons of different coupling matchups. The artwork and character design are beautiful, but in my personal opinion, the best part of the comic is how hysterical it is. The joke writing is sharp and funny and the creators use the sexy parts of the comic to make fun of porn tropes. There are dinosaur sex scams, fig pudding that's been enchanted so she can have sex with the prince, demons who do humans' taxes, crows who think they might be lawyers, and a snow queen who won't let spring come until she cums. While most of the comics are NSFW, there are quite a few SFW comics that have gone viral. I was hooked from the moment I saw a character's enchanted cum turned into a cumsprite and run through a castle letting everyone know the character masturbated. 
Oglaf updates Sundays is available for physical purchase. To support Oglaf or the creators' other work, check out Trudy and Doug's Patreon. 
The Rock Cocks
The Rock Cocks follows punk-rockers Suria and Steg, their management team, and the friends they make along the way as the Rock Cocks try to get the fame and attention they so deserve. They battle rival bands, push against an industry that hates their sex-obsessed image, get stranded in a desert, stay at a nudist resort, meet some of their musical icons, and even blow up their old van. The comic is written by Brad Brown and drawn by Leslie Brown, and the story they have created is electrifying. While the pacing can be awkward at times — even the characters complain about how long it's taking them to perform or get to their next destination — but there are plenty of sex scenes and prevalent nudity. The sex is well-drawn and features queer and trans characters, yet the music scenes are where Leslie Brown's art really gets to shine. Brown's coloring, especially her use of electric pinks, shows the readers the emotions that the Rock Cock's are able to invoke with their music. There's a surprising sense of humor to go along with the marvelous sex scenes and the various hijinks the band and their friends get into. What more could you ask for!
The Rock Cocks updates Wednesday, Thursday, and Fridays. For more of The Rock Cocks check Brad and Leslie Brown's Patreon. 
Chester 5000
Chester 5000 XYV is a Victorian steampunk comic that follows two inventors, their gorgeous wives, and a robot, the Chester 5000, on their racy adventures. The comic is written and drawn by Jess Fink who has a number of safe-for-work and sexy comics available for free on her website or for purchase at your local comic shop. Chester 5000 garnered mainstream attention from creators like Alan Moore and Lucy Knisley during its eight-year run. The Chester 5000 was built to be the perfect sex robot and the extra features he has make the sex scenes super fun to read. He has heat-sensitive vibrating fingertips, extendable arms that allow him to finger his partner while she climbs a tree, and an attachable nose that he can use for oral sex. The sex scenes are drawn lusciously and the Victorian backdrop adds a level of sophistication that makes them that much more tantalizing. Another aspect that sets Chester 5000 XYV apart is that it tells an incredibly heartfelt and multifaceted story without any dialogue at all. Jess Fink's storytelling shines through her artwork as she is able to convey the sexual repression felt by Victorian women without saying a word. If you are a sucker for period dramas, stylish smut, or if you've ever found yourself wondering how a robot's penis would work, then this comic is for you. 
Chester 5000 XYV ended in 2016 but is still available for free online and is available for physical purchase. You can support Chester 5000 XYV or Jess Fink's other work on Patreon. 
Curvy
Curvy is a multiversal queer adventure story that follows human girl Anais as she travels through different worlds with her new sexy friend Fauna, the princess of Candy World. Fauna is on the run from an arranged marriage to Boglox, the high prince of Stupid World, and other nefarious characters who are interested in taking over the Boring World (which is, sadly, our world). The characters are witty, sassy, and have some very creative sex. For example, there's Fauna's head maid Nian, who has candy cane tentacles instead of legs — she uses those tentacles as peppermint dildos. Or there's Johnathan, a trans pirate merman, who dreams of transitioning, moving on to dry land, and uses a pirate's peg as a strap-on. One of the sexy secret agents who is chasing after Fauna and Anais, Mallory, uses shibari and sexual domination to coax information out of the princess. Anais enjoys every moment of it and gives enthusiastic consent for Mallory to dominate her. Curvy explores issues of communication in relationships, gender expression, transphobia, and how a woman with candy cane tentacles can peg a secret agent from the Pentagon. The worlds Anais and Fauna explore are unique and the sense of humor that goes along with their adventures makes the comic just that more enjoyable to read. 
Curvy ended back in 2017, but is still available for free online and is available for physical purchase from Iron Circus Comics. To catch Sylvan Migdal's other works take a look at his Patreon.