Building a terrarium is easy, peaceful, and can give you a piece of mindfulness that you'll never expect to have.
I wanted to build my first terrarium after reading Amy Parish's zine Terrarium – Give Yourself Room to Grow. It was the perfect jumping off point for me to dive into terrariums, mindfulness, and self-care for feeling anxious. (I actually have it by my desk as a resource whenever I feel overwhelmed.) After this, I was on my way to building my first terrarium, and I'm so happy Amy started me on this journey. It's taken a couple of trial and errors (mainly because I'm new at being a plant mummy), but it's a very simple and creative process once you get the hang of it.
In this article, I'll give you a step by step on how to build a terrarium and what it can do for you in the process. Now, let's get started.
First, if you've never built a terrarium,welcome to the wonderful life of being a new plant parent! Don't worry! You'll do fine! I know a lot of people are very scared to buy their first plant when they start something like this, but you'll do excellent!
Now… the first thing you'll need for this is:
An open container. (Here are some examples of different types of containers you can use. (1) (2) (3).) I personally use a mason jar or just an open type of open container. You can also use a mug. Your plant world is yours! 
A plant.

For terrariums, succulent plants are the BEST type of small plants for these. They're so beautiful and can take up such little space. However, you can use cacti for these as well. You want a plant that doesn't need a lot of water.

Soil.

Potted soil would be the best in this case.

Pebbles and/or rocks.

Either one is totally fine. Whatever your style aesthetic calls for.

Activated charcoal

. This is so nothing molds inside your terrarium. The charcoal helps keeps the water buildup flowing so nothing stinks, but it's also completely optional! You can get this at Target, Walmart, Vitamin World, or absolutely anywhere where charcoal is sold!
You can also add:
Moss

Native plants. These plants are a bit harder to work with since they need water a lot more often than houseplants.

Anything you'd like to put in there for yourself!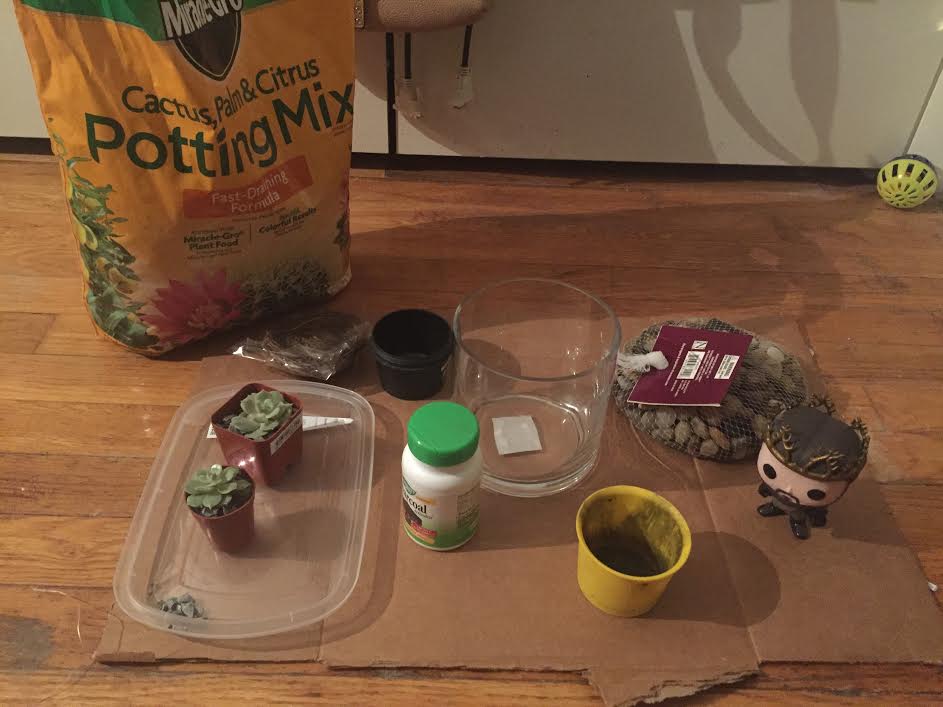 After you gather all your items, you'll start building your terrarium.
First, you'll take your container and make sure nothing inside of it is wet (if you washed it). You'll then take the pebbles and layer those at the bottom of the container. Make sure they're nicely evened out at the bottom. You can add as many or as little as you want. Again, whatever aesthetic you see fit for your terrarium.
Next, charcoal! This was the hardest part for me cause the charcoal got all over my hands. I was a really big dummy and already had activated charcoal as pills. So I split those open and used them for this. If you're doing this, a trick that I used was to find a small throwaway container, get some gloves (if you have them), and cut the ends of the pill into the container. You can also pull them apart, but you're going to be squeezing the pills either way.
If you have loose charcoal in a box or other, you're the lucky one! You'll just need to get some gloves and a small container and go to town.
Once you're done with doing that, layer the charcoal over your pebbles and/or rocks. You'll need to get a good even layer along the pebbles, but don't suffocate them with the layer. Some of the charcoal will go between the rocks and that's what you want.
After you're done with the charcoal, the fun really starts when you add your soil. You'll want to get a handful of soil first to put over your pebbles and charcoal and make sure it's even. Don't worry if you don't have enough soil. Once you're done with this, you're gonna wanna start on laying your plants inside the terrarium.
Now, this is where the fun begin. You can do WHATEVER you want after you lay that first hit of soil down. It's always fun to mix, match, and experiment with different types of thing you can do within a terrarium. You can also mix and match plants if you'd like. For my terrarium, I'll be using a pop figure that was given to me by a friend. I wanted to make this for awhile, and I finally get to do a dedication to Renly Baratheon, my sweet prince.
You'll want to make sure you have the plants at least covered again with a little bit more dirt before you call it a day.
Now, these plants, again, do not need a lot of water. Come back to them at least every so often and see if they do. A good way to know is if you touch the soil and its dry or you see the plant dying off a little quicker than you'd want. It might be time to water OR put it near some light. You NEED to keep them in bright light, preferably by a window or high lamp. This was the first mistake I had with my very first terrarium. (RIP, little plant Vader.)
After you're finished with that and you have everything the way you'd like,it's time to show off what you've made!
Terrariums are great for a lot of things. They're really cool gifts to give our to friends (make sure you give them some instructions on how to take care of it) or just great to do in general. When I made my first terrarium, it really created a great bit of relaxation that I desperately needed at the time. Hopefully, it gives you a little bit of headspace as you're creating something for you or someone that you adore.