It is eight o'clock in the morning, your fellow geek calls you up and announces a last-minute con she has decided to attend. Obviously, you have to go with her, but what to wear? It is now time to perform your own superhuman feat and put together an acceptable geek outfit from easily found items. This is my new mission in life. Additionally, being able to look more like a comic book character in everyday life is an important skill to cultivate. As a Geek Gal, I love the idea of incorporating more of comic book culture into my routine, but as a Very Busy Person, I don't seem to find a lot of time to do that.
Then, from the depths of my underslept brain, came the idea for Quick Change. Like every superhero before me who must race into action, I too will change into my comic-loving alter ego in record (or just sort of not-slow) time. The mission: find an outfit inspired by a comic book character in a thrift store, resale store, or sales rack in under 20 minutes for under $20.
For my first attempt, I have chosen Velocity (Carin Taylor) from Cyber Force. Cyber Force originated by Marc Silvestri for Image Comics in 1992. I remember stumbling across an older issue of Cyber Force at a military base garage sale my father took me to as a teenager. The story of a supreme Aristocracy disguised as a Republic really intrigued my angsty dystopian-loving heart. Published by Top Cow, it has undergone a few different artists and styles. Velocity, daughter of the Chairwoman of Pittsburgh, finds out a terrible truth and attempts to save the world from total destruction. There are two distinct iterations of Velocity.  The voluptuous, male-gaze version: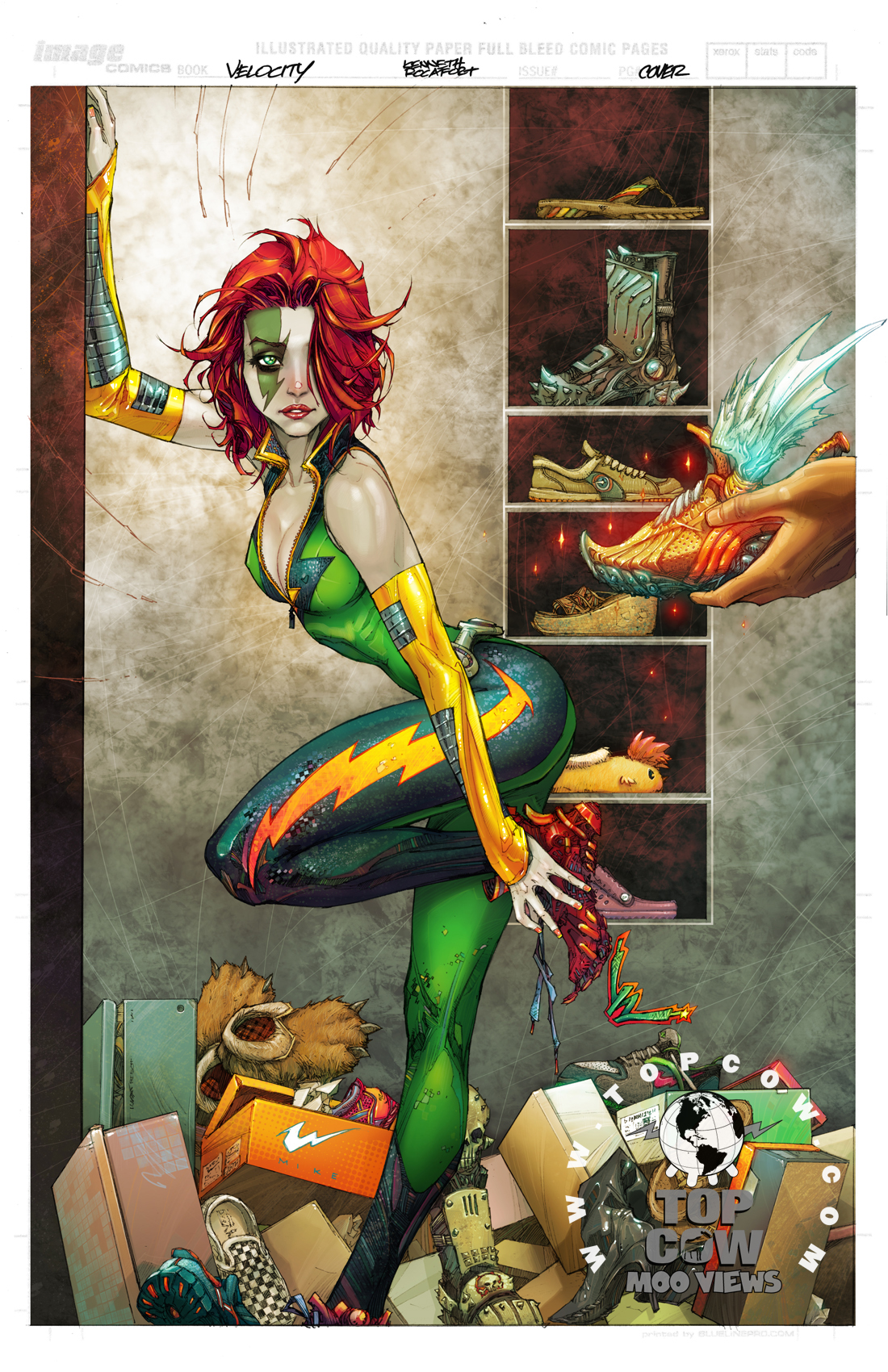 I decided against this version for multiple reasons, the most obvious of these being the improbability of finding a green latex jumpsuit at my local thrift store. Black, maybe, but bright green? A gal can only dream. Also, you know, wanting to feel comfortable in clothing and being able to actually incorporate this into my everyday wear.
Luckily, there's another version of Carin Taylor that I've decided to go with:
Before:
I am feeling pretty confident about my ability to recreate this outfit. It's definitely on the more "normal" side of comic book fashion, and I think it will be a good way to ease myself into these self-imposed challenges.
Items I will need:
-Blue tank top with adorable cartoon character
-Black pants (apparently made of latex or paint, but I will probably just aim for pants that are black)
-Brown closed-toe shoes
-Green scarf
-Belt made of large circles
-Maybe some brown bracelets
I can envision myself wearing this to work on my writing at a coffee shop or hang out around the house, but it will make me feel like I am on a quest to prevent the end of the world, just like Velocity.
In order to save time, I have decided to dress in a tank top and leggings so that I can throw the clothing on as I find it in the store. (This is actually my normal method of shopping at the thrift store as there are no changing rooms.)
During:
I start out at 7:02 pm:
(That's my excited face.)
I brought along a reference picture to make important, speedy decisions like "which green is a better green?"
I sped through the store, trying to take into account the size of items, the price, and their relative similarity to Velocity's outfit.
Items with blue labels are 25% off today! Definitely a fortuitous day for this project.
I quickly found the scarf and the belts that could serve as bracelets, as well as a sunburst themed belt that would work to hold up my pants. My shoe options were extremely limited by both my foot size and most of the women's shoes not having a closed toe.
The two biggest hiccups were definitely the largest parts of the outfit: there was only ONE blue tank top in the entire store and it was a size too small, though it was a good blue for Velocity, and I had almost run out of time before I got to the pants section. In the last few moments, I threw on the first pair of black pants I found, which were three sizes too large.
After:
I give myself a C+. While I did finish just in time, the total came out to $24.39, which was just a little over my $20 budget. I think this definitely could have been prevented by picking different shoes, possibly from the men's shoe section. Also, the tank top is lacking the Pikachu-esque creature that would make her slightly more recognizable. However, I think if I went back and found pants that fit, this wouldn't be too bad. Paired with a wig and my contacts, I think this would be a passable last-minute con outfit. As an everyday outfit it doesn't seem too out of the ordinary, but it would let me feel just a little bit geekier knowing it was inspired by Cyber Force.
Now for the worst photoshop job of all time:
Top Cow released the first five issues of the new Cyber Force for free, and you can read them online here.
Tune in next month when I attempt to recreate another character's look!
-Al Rosenberg