It was a slow news week for DC, but that doesn't mean we didn't have some big stories! On the tips of everyone's tongues is the upcoming appearance of Constantine on the CW's Arrow. Yes, having recently been canceled by NBC, much to the disappointment of many fans, Constantine is back! Somewhat. The television show doesn't look like it's making a comeback anytime soon, but fans can at least be happy for this tie-in appearance on Arrow. Hopefully down the line we can see a full fledged return of the character in DC's TV universe.
Speaking of the CW, with fall just around the corner, or well, fall TV just around the corner, it's time for everyone to speculate, speculate, and speculate some more. In Screencrush's corner, there's brewing speculation on two upcoming characters for the CW's The Flash.
We already know that Wally West is coming to Keystone, but according to showrunner, Gabrielle Stanton, it might not be as Iris' nephew.
"We are a doing our special Flash magic where we take a comic book character and give it just a little bit of a 'Hmmm,' so that you're like, "Oh!" [Wally will be incorporated] in a really, really cool way… that I don't think the audience will see coming. He will definitely have a very interesting and close relationship Team Flash."
This is hardly surprising, given that Candice Patton (Iris West) and Keiynan Lonsdale (Wally West), aren't that far apart in age. Patton is 27, and Lonsdale is 23, while it's still possible for Wally to be Iris' nephew even being so close in age, it's rather unlikely. Placing my bet now that Wally is really Iris' cousin.
Stanton also teased about the inclusion of a new hero going by the name of Dr. Light. In the comics the original Dr. Light was a villain, Arthur Light, however there was another who took up the mantle as a hero, Kimiyo Hoshi. If Kimiyo is going to be included in The Flash as a hero, my only hope is that they don't whitewash her. Something that Arrow has an unfortunate history of, and Legends of Tomorrow is following suit in. But lets stay hopeful The Flash doesn't get bit by the whitewash bug.
Speaking of The Flash, a recently released promo image for season was tweeted out by the shows official twitter. It's a nice – if incorrect – homage to one of the original Flash comics by DC Comics starring Barry Allen and Jay Garrick.
http://twitter.com/CW_TheFlash/status/631212947713318912/photo/1
Two True Blood alums are coming to the DC universe this fall. Brit Morgan has been cast to play Livewire in Supergirl, while Rutina Wesley is appearing on Arrow as Lady Cop.
For those interested, Henry Cavill revealed his super Superman diet on a recent episode of Jimmy Fallon and stated that Justice League pre-production will begin in January. I'm still crossing my fingers in hopes that Batman vs Superman: Dawn of Justice will be good.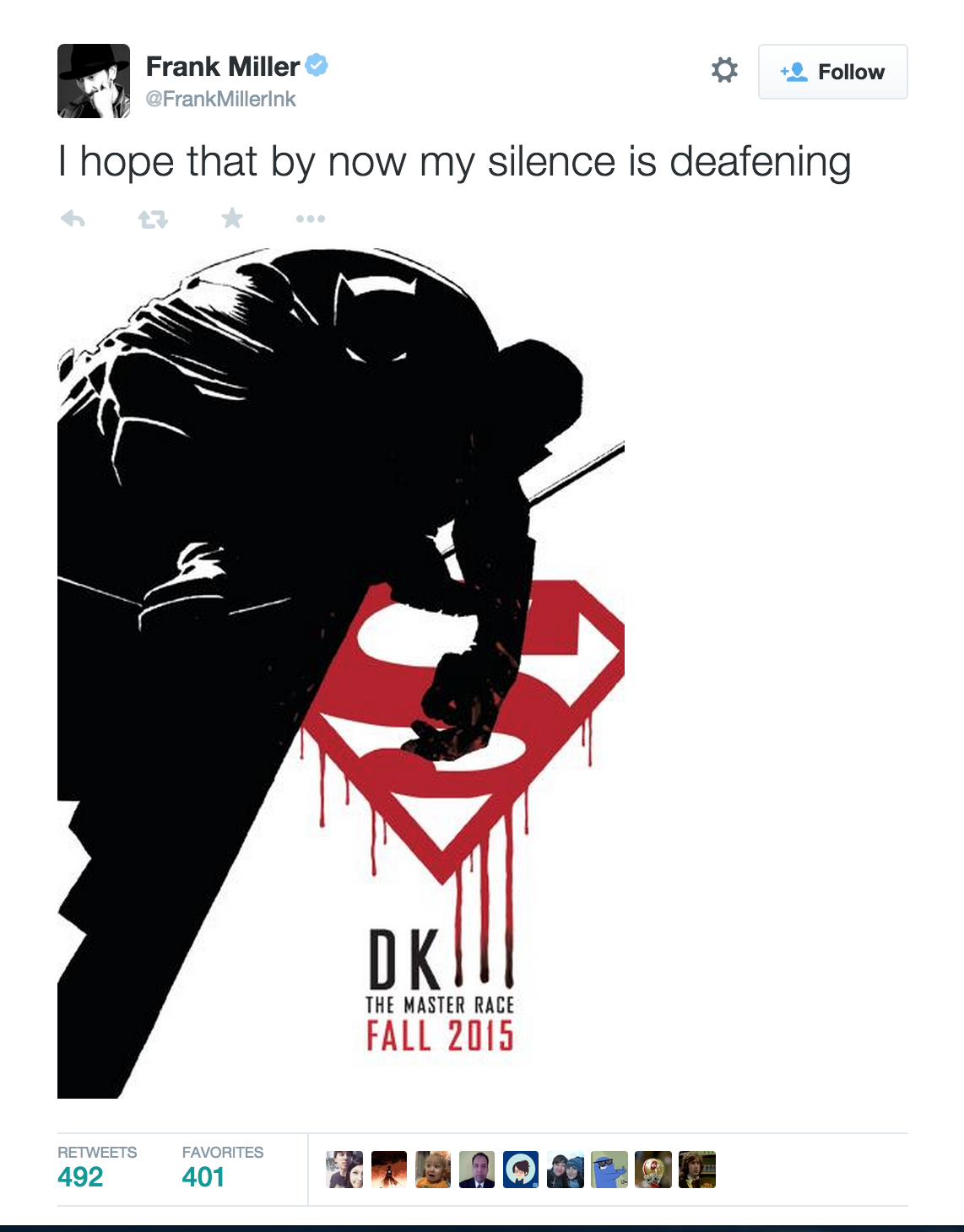 DC is also offering a specially drawn variant cover drawn by Jim Lee for the upcoming The Dark Knight III: Master Race to every comic shop that sells 5,000 copies of the book. Buying a copy of something titled Master Race, written by Frank Miller? I'm sure the cover will be worth thousands of dollars in another twenty years but I'm good.
Mark Hamill is already reprising his role as Luke Skywalker in Star Wars, along with his role as the Joker in the upcoming Batman: The Killing Joke animated movie, but he's not stopping there! He'll also be voicing the character of Trickster in DC's newest LEGO movie Justice League: Attack of the Legion of Doom! Hamill is a busy bee.
CW CEO Mark Pedowitz declared that there will be no other DC superhero shows coming to town. In a ironic decision considering CW greenlighted Legends of Tomorrow, Pedowitz cited over-crowding as the reason why the company passed on Supergirl whih is now slated to air on CBS.
Pedowitz apparently regrets the decision, stating, "In hindsight, we probably should've gone [in] that direction – sometimes you lose great shows." The cynical side of me feels that CW wasn't ready to push a female superhero just yet. There is Vixen, but the show is only being aired online through streaming, and is animated. Oppose to her own solo live action show. So looks like CW missed out big time on two counts!
That's all for this week folks! Now go read Bombshells!