One of the biggest debates that's been circling the media circuit recently has been centered on the near all white Oscar nominations that were released soon after the airing of the Golden Globes. There's a startling gap between the Oscars and the Golden Globes that opens up a deeper debate on the subject of Hollywood's so-called liberalism.
Hollywood is in a flux between being increasingly inclusive, and stallingly conservative. As noted from the differences between Oscar and Golden Globe nominees. Compared to the Golden Globes, the Oscar choices have been overwhelming white, male, and conservative. The Golden Globes weren't overwhelmingly inclusive, but they did miles better than the Oscars have this year.
The Golden Globes at least nominated David Oyelowo for Best Actor for his amazing role in Selma. The Golden Globes also nominated director Ava DuVernay for Best Director and Selma for Best Picture. Quvenzhané Wallis was nominated for Best Actress in a Motion Picture Musical or Comedy, The Book of Life and Big Hero Six were nominated for Best Animated Feature, and Gillian Flynn was nominated for Best Screenplay for Gone Girl. The Golden Globes also recognized Viola Davis, who was nominated for Best Actress in a TV Drama series for her amazing portrayal in How to Get Away with Murder. Orange is the New Black, Jane the Virgin, Girls, and Transparent (which won)—all stories about women—dominated the Best TV series, Musical, or Comedy category. Gina Rodriguez won for Best Actress in a Musical or Comedy, and Don Cheadle was nominated for Best Actor in a TV Series, Musical, or Comedy. Matt Bomer won Best Supporting Actor in a TV Movie or Miniseries, and Uzo Aduba was nominated for Best Supporting Actress in a Miniseries or TV Movie.
Meanwhile over at the Oscars Selma is nominated for two awards, Best Picture and Best Song. There are no actors of color featured in either Best Actor or Actress categories and no women (despite Selma's Best Picture nomination) included for Best Director. The Best Screenplay category, which includes both original and adapted screenplays, is dominated by white men.
Last year's Oscars outdid this year's in terms of inclusive diversity, which is strange because it wasn't as though this year was lacking in fantastic movies created by or starring women and people of color. Dave Karger, host of the Fandango run award show Frontrunners, stated, "this year's all-white lineup in the major categories seems like a bit of a step backward."
Shawn Edwards, a film critic who runs the website ILoveBlackMovies, also commented, "it was a total blow, it was like getting hit in the stomach," in reference to the near complete shutout for people of color at the Oscars.
After the initial announcements were made, Twitter exploded in frustration with the hashtag #oscarssowhite and even inspired youtube personality Niceone Fransi to sing about it.
These nominations only grow more frustrating when compared to the inclusive Golden Globes, which aired only a few days before the Oscar nominations were announced. This isn't to say there weren't problems with the Golden Globes—there were. While Transparent is a story about a transwoman (Maura Pfefferman) that was inspired by creator Jill Soloway's real life trans parent, the lead character (Maura) is played by a cis man, Jeffrey Tambor. Tambor won the award that night for his role as Maura, continuing Hollywood's acceptance of awarding cis men for playing transwomen roles, such as when Jared Leto won the Oscar for his role in Dallas Buyers Club last year. There are transwoman working in Hollywood today, so it's frustrating to see Hollywood continuing to award cis men for playing roles that could easily be filled by actual transwomen.
Still, the Golden Globes and the Oscars showcase two notable things; some parts of Hollywood are working towards more inclusive diversity, and Hollywood likes to play the liberal media superheroes.
Cheryl Boone Isaacs, Film Academy President, made several statements about the Academy seeking to include more diverse members into their ranks. However, as the New York Post notes, "with near 7,000 members and no requirement to retire, diversity is going to take some time." Of that 7,000, 94% of voters are white and 77% are male, with Blacks, Latinx, Asian, and Native American's making up around 4% combined, according to a study done by the LA Times.
Inspired by these statistics, Derek Thompson of The Atlantic decided to compare the members of the Oscars against the whitest states in America. The results were pretty damning.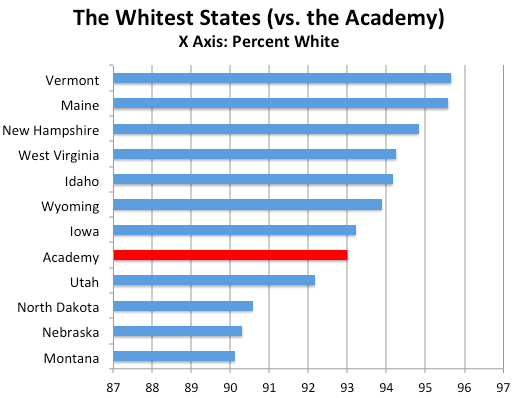 The irony of it all is that Hollywood likes to play the liberal powerhouse of America. Patting themselves on the back for supporting Je suis Charlie—ignorant of the campaign's own hypocrisy and history of Islamophobia and Anti-Semitism—and awarding 12 Years a Slave for Best Picture last year. Yet, in comparison to the Golden Globes, Hollywood's "biggest night" for celebration is only celebrating one thing this year—white males.
The Golden Globes are an example of ignorant, well-intentioned liberalism that deserves critical thought, discussion, and a little praise. Oscars is just ignorance and the glaring showcase of how non-liberal Hollywood truly is. The Academy board is far too overwhelmingly white and male. And despite the President's claims, how are new diverse voices suppose to get in, if the old ones refuse to leave? If we keep celebrating the same stories done by the same people how are newer, diverse stories suppose to get recognition?
We see this change happening on TV. This past year we've seen a huge influx of shows with diverse casts and stories. From the Golden Globe winning Jane the Virgin, to Sleepy Hollow, How to Get Away with Murder, The Flash, and others. While movies remain stringent and closed off to the old white ways of Hollywood.
We can see things changing with the slow stride within our television shows, but the change for movies is still moving at a snail's speed. Now, at least, it is being challenged by the public who are clearly craving more representation within their fictional media. With the Oscars airing soon we can only hope this discussion will continue as we push for more diverse media. So that this event won't be repeated again with a near lockout of women and people of color getting the recognition they deserve.